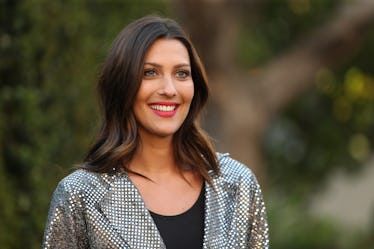 'The Bachelorette' Producer Tweeted Major Clues About Becca's Season & OMG
ABC
Becca Kufrin is ready to "do the damn thing" as America's next Bachelorette — the Season 22 Bachelor contestant's installment kicks off on May 28. Filming has been underway, and while the charming leading lady appears to be enjoying herself in the sneak peek pics, viewers are obviously wondering: Does Becca get engaged at the end of The Bachelorette? Leave it to Twitter-happy producer Mike Fleiss to tease what's to come and keep us on the edge of our couches.
Yes, Mike Fleiss — barer of spoilers, guru of clues — took to social media this week to offer up some cryptic (and a few not so cryptic) hints regarding the upcoming Bachelorette season. "Ok, #BachelorNation . Prepare to have your mind blown!!!" he wrote on April 21, before launching into a series of tweets about Becca's reality TV romance future.
Becca's got Bachelor Nation on her side. Her highly public Bachelor story went down in history as one of the show's most cringeworthy sagas to date. As you probably know by now, the Minnesota native got engaged to Bachelor Arie's Luyundyk Jr. only to be broken up by him on national TV, when he decided to give a relationship with runner-up Lauren Burnham a shot instead. In the wake of her heartbreak, Becca emerged as a fan favorite and a clear front-runner for the Bachelorette role. So, was her televised quest for love fruitful a second time around? Well, according to Mike Fleiss, "proposals" are on the horizon.
After further promising fans to prepare to have their mind blown, Fleiss tweeted: "First hint for #BachelorNation ... 3>2."
It's times like these that bring out the amateur cryptographers among Bachelor Nation. 3>2 could mean that there will be three runner-ups over the typical two, especially since he uses the plural "proposals" later. Other social sleuths speculated that he might be referring to the return of an alum from Season 3, while some thought he was teasing a pregnancy. Hmm. A more feasible concept is that Fleiss is merely suggesting that there will be 3-on-1s this season, considering that's how numbers usually factor into this show. Orrrrrrr perhaps he's just trolling us by declaring his favorite Lord of the Rings trilogy installment.
Well, the second clue requires a little less analyzation. "A blast from the past" is apparently going to be a part of next season. That narrows it down to about... hundreds of former contestants, so many conjectures apply to this conundrum. Becca already got a blast from her personal past on The Bachelor when her ex Ross crashed the party in Peru and tried to win her back. Will Ross make an appearance? Or will there be an old franchise face returning? Nick Viall always comes to mind considering the pattern, but there's always the hope of Peter, right?!
Clue number three is a bit more definitive, yet it still opens the doors for contemplation.
OK, this reality competition usually concludes with a ring... but rings? The emphasis is on the "S" in Fleiss' tweet. Multiple proposals might lie ahead, although there's always the chance Becca won't be receiving both of them.
Mike Fleiss' fourth ambiguous giveaway points to a mysterious "JP." Longtime Bachelor fans are likely aware that J.P. Rosenbaum is currently married to Ashley Hebert, so I doubt he'll be competing, though that would truly be a mind-blowing scenario. Other potential known JPs include Juan Pablo (also married) or Jake Pavelka.
What does it all mean?! Bachelor Nation will get some answers when Becca's season of The Bachelorette premieres May 28 on ABC.