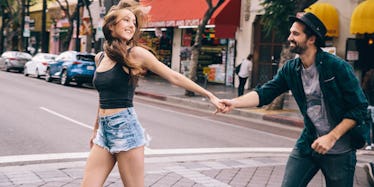 So, It Turns Out That Most Men Don't Actually Care About Dating Taller Women
Whether you admit it or not, everyone has their own dating preferences. For instance, some people prefer to date non-smokers to go along with their own smoke-free lifestyle. Some want a dog-loving partner so that one day, they can adopt a little pup together. And some have preferences for height. I looked around on the internet (AKA Reddit) to see do men care about height? I understand that some straight women prefer to date a guy who's taller than them. But how do men feel about height when it comes to dating, sex, and relationships?
As I expected going into my deep-dive search, the answers were pretty varied: Height doesn't always play a factor, though, of course, it does sometimes. There's an unfortunate stigma out there that straight women "should" date men who are bigger and taller than they are. And that stigma can be surprisingly tough to shake off.
Maybe you've worn flats on a date when you really wanted to wear your new heeled boots. Or maybe you've shied away from flirting with a great guy because you're worried that he'll care that you're taller than he is. Here are some thoughts directly from men who have dated women taller than them — they're pretty comforting, no matter your height.