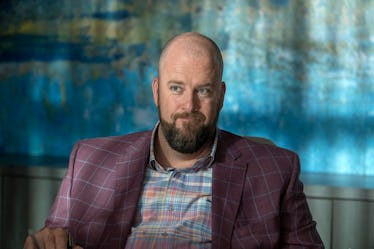 This Tiny Detail About Toby In The 'This Is Us' Season 3 Flash Forward Will Wreck You
Ron Batzdorff/NBC
This Is Us has a knack for tugging at every last heartstring. The show also knows how create head-scratching twists. Sometimes it does both at the same time. For example, last night's Season 3 premiere introduced a flash-forward scene that picked up where the Season 2 finale's left off. The peek into the future revealed a lone Toby sitting in a bed without his beloved wife Kate. One detail that got eagle-eyed fans talking — he wasn't wearing his wedding ring. Um, do Kate and Toby get divorced on This Is Us? That's one of many prospective scenarios that's making viewers nervous.
Sept. 25's episode, "Nine Bucks," was a difficult road for KaToby. Last season Kate suffered a devastating miscarriage in one of the most heartbreaking moments of the season. Now that she's ready to start trying again, her one wish in life is to have a baby. Unfortunately, a fertility doctor admits she's hesitant to treat her because her weight puts her in a high-risk category. This is a highly disappointing development for a couple that's been through so much already. By the end of the episode there's at least some hope. The doc changes her mind and says she's open to working with Kate and Toby on the IVF process despite the odds. But like pretty much every This Is Us episode before it, where there's hope... there's also an obstacle brewing. Toby flushes his anti-depressant meds — which could be affecting his sperm count — in order to up his and Kate's chances at conceiving. As anyone who's been paying attention to Season 3 teases knows, the consequences of this reckless move are probably going to be dire.
OK, now that I've recapped what Toby and Kate are facing in 2018, it's time to evaluate that gloomy glance into the future. While the mystery of who "her" deepened when older Randall and Tess prepared to see someone they weren't ready to see, older Toby was added to the picture. And what a worrisome picture it was. Randall called his brother-in-law (or former brother-in-law?) Toby to ask him if was going to "come down." From the looks of the state of his environment, Toby's life appeared to be one that Kate might not be in 10 years down the line. One side of the bed looked barely touched. Toby, complete with a bushy beard and melancholy expression, did not seem to be good place. There was also no wedding ring in sight.
This shocking turn of events could mean some of This Is Us' fans worst fears are going to be realized. Toby and Kate could be headed for a split and she could very be the "her" that's been speculated about. There's also an even more unsettling thought: Kate could be deceased and the "her" in question is someone else. That spells a lot of heartache and pain to come.
"We knew it was going to be Toby, but how much do we want to show about his life?" executive producer Isaac Aptaker explained to EW about Toby's involvement in the flash-forward. "And what's that right little moment to give people just enough of a window to be asking the right questions? And we just decided that him in a well-made bed without someone else there just feels so empty — that was the right amount of a tease we wanted to give."
"I can't say anything, one way or the other," Chris Sullivan, the actor behind Toby, said when addressing the fate of Kate and Toby's future relationship. "It's a well-constructed storyline."
No matter how well constructed This Is Us' sad stories are, they're still just as hard to take.
This Is Us airs Tuesdays on NBC.