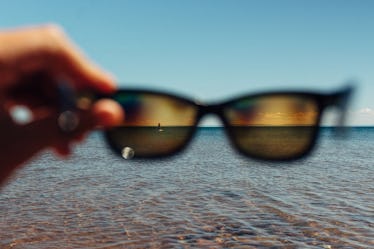 Sunglasses Might Not Help You See This Weekend's Partial Solar Eclipse & Here's Why
This is a summer of astrological chaos, there's absolutely no doubt about it. With the retrogrades of seven different planets and a heavily transformative season of eclipses, it's clear that this summer is putting us through one obstacle after another. As we near the Aug. 11 partial solar eclipse in Leo — one of the most intense cosmic events thus far — the build-up of drama is more than tangible. I don't know about you, but it feels like I've been slowly and painfully climbing up a steep hill, working my mind, body, and soul to the core. All spiritual interpretations aside, the partial solar eclipse is one damn good reason to gather all your loved ones, take a step outside, and bask in the celestial glory. However, if you're all about "safety first," you're probably asking the most important question of all: "Do I need sunglasses to see the partial solar eclipse?" After all, you don't want the event to permanently "eclipse" your eyesight.
But, before we get to that, it's essential that we establish whether or not this question even matters to you, because not everyone on planet Earth will get to see the partial solar eclipse in person. According to this map of the eclipse's journey on TimeAndDate.com, the main locations that will be in view of the astronomical event are the northeastern tips of Canada, Greenland, Scandinavia, Russia, Kazakhstan, Mongolia, and China. Unfortunately, the partial solar eclipse will skip right over the U.S. this time, and it won't be until October 14, 2023 until a solar eclipse will make an appearance for the United States.
However, if you happen to be in any of the appropriate viewing locations for this upcoming partial solar eclipse, then your original question still stands. According to The New York Times, it's an incredibly dangerous mistake to stare directly at the solar eclipse without proper protection for your eyes, a mistake that could lead to permanent blindness in your eyes. Don't be like Donald Trump, who caused quite the media storm when he made this exact same mistake during The Great American Eclipse last year. Lucky for Donald, a good-hearted samaritan warned him not to look at it without the proper eyewear.
However, not just any ordinary pair of sunglasses will suffice in the face of such an intense display of solar light. You need specialty eclipse glasses, and they should be ISO 12312-2 compliant, which is an international safety standard.
However, if you're like me and you won't be needing specialty eclipse glasses because, it's not like you're going to be able to see the partial solar eclipse anyway, I'm here to report some disappointing news: As of now, it doesn't look like there will be any online live streaming of the partial solar eclipse, according to Express.co.uk. If you were planning on getting comfortable and watching the cosmic amazement through a screen, this is probably disappointing news. However, this is likely because the eclipse will only be a minor one, and very few parts of the world will even be able to see it.
I know all you astrology and astronomy lovers in the U.S. are probably feeling left out of this partial solar eclipse experience, so I feel it's necessary to lift your spirits with some good news. On January 21, 2019, the United States will be in plain sight of a total lunar eclipse in Leo. Yes, not only does this mean that we get to stare straight at a blood moon, we also get to watch it without eclipse goggles since a lunar eclipse poses no threat to your eyesight. That's definitely something to look forward to, am I right?