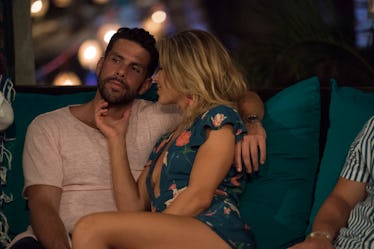 Here's Everything We Know About Chris & Krystal's Relationship After 'Paradise'
ABC
Krystal Nielson knows how to play the Bachelor in Paradise game. Technically, it's not a competition, but a smart gal has to develop her own strategy to keep hanging on the beach even if she's not sure what her heart wants. On this week of Paradise, she initially turned down Connor Obrochta asking her on a date because of her feelings for Chris Randone, but then decided to go out with him anyways. The date wasn't quite a harmless hangout between platonic friends, but because of her connection with Chris, fans are still curious: Do Chris and Krystal get engaged after Paradise?
Although we're anticipating Jared Haibon proposing to Ashley Iaconetti by the end of Paradise Season 5, one of the season teasers has essentially confirmed that the finale will also include other surprise engagements. At the 3:20 mark of this preview, someone who sounds quite like Krystal exclaims, "Oh my God, yes!" at the sight of a brand new Neil Lane sparkler. The promo footage also shows Krystal in a hotel bed, telling us that she definitely makes it to the fantasy suite stage, which is typically right before the season officially ends. But with Connor now in the picture, does she reach that milestone of the season with him or Chris?
Although ABC's social media rules are usually a little more lenient toward Paradise couples than with Bachelor pairs, skimming through both Krystal and Chris's Instagram pages won't offer you any clues about their current relationship status. Both contestants are prone to dramatic selfies, so seeing anyone on their pages, let alone each other, is a little rare. However, as many Bachelorette guys love to do, Chris did post an photo from Paradise capturing his mood when Krystal's date with Connor aired, writing alongside it:
Current mood as @coachkrystal_ is on a date with @iam_cjo. Always thankful for the homie @kevin.c.wendt giving good advice
These kind of posts are as inevitable in Bachelor Nation as rose ceremonies are. However, seeing as Chris has yet to post a Paradise photo with Krystal and previously shared a photo with his initial love interest Tia Booth, it could be a sign that things are still serious with Krystal. I'll believe a Bachelor Nation couple who keep their relationship out of the spotlight when I see it, but maybe this is foreshadowing that Chris would do just that once a relationship with Krystal is confirmed.
Interestingly, before the cast headed to Mexico for filming, both Krystal and Chris spoke to Entertainment Tonight, and as both of them were portrayed as villians on their previous seasons, Chris spoke about Krystal's own transformation, saying:
She's actually a beautiful person and I'm really excited to have America see that as well. I don't know if it's [about] redemption stories, but I think [Paradise] just has the ability to see people in areas of who they are and give people an idea of kind of who we are in real life.
Chris's Twitter also includes Paradise live tweets, and during Episode 6 alone, he agreed with his own comment about Krystal and said that her going on a date with Connor "sucks."
If I had to guess, it looks like Chris is way more willing to hint at an ongoing relationship with Krystal than she is. As we saw on Paradise, Chris was determined to be Krystal's top guy, while Krystal was still a little torn between Chris and Connor. With so much uncertainty floating around on that beach, we'll have to wait and see if these two finally make things official. Don't become the next Tia and Colton, guys!
Bachelor in Paradise continues on Tuesday, Aug. 28, at 8 p.m. ET on ABC.