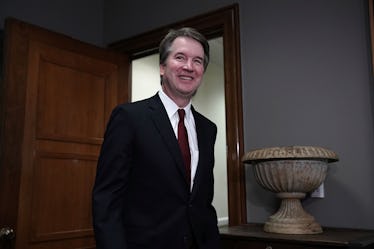 Abortion Might Be A Big Issue In The 2018 Midterms, But Not How You Think
Alex Wong/Getty Images News/Getty Images
As voters are preparing to head to the polls in November for the midterm elections, the fates of a handful of senators are tied up in the nomination of a new Supreme Court justice. The stance of Judge Brett Kavanaugh, President Donald Trump's nominee for the seat, on abortion in particular has caught the attention of voters, according to a new poll. The findings of the survey, released Monday, July 30, make it clear just how much Americans support abortion and indicate how this might play out in November.
The poll was conducted by Civis Analytics on behalf of the National Women's Law Center (NWLC) and the Planned Parenthood Action Fund (PPFA). The online survey, conducted on July 25, included responses from 2,438 likely voters, including Democrats, Republicans, and Independents.
The poll, according to PPFA, found that voters were twice as likely to support senatorial candidates who'd vote to confirm a SCOTUS nominee that would uphold Roe v. Wade, the landmark 1973 case which confirmed the right to abortion care. Additionally, more than 75 percent said a Supreme Court justice should uphold the constitutional rights of women, including the right to abortion. A majority of voters also thought that this right was in jeopardy, and half believed that Kavanaugh, if confirmed, would overturn Roe.
Kavanaugh was nominated by Trump on July 9 to fill the upcoming Supreme Court vacancy after Justice Anthony Kennedy announced his retirement in June. The nomination has become a sticking point, as Kavanaugh's stance on abortion has been cause for concern among pro-choice advocates and groups — and now, this poll shows, for voters as well.
"This poll shows that people are deeply concerned about a woman's constitutional right to abortion, and they're worried about what Kavanaugh would do," said PPFA Executive Vice President Dawn Laguens in a statement shared with Elite Daily. "We're seeing this in poll after poll, and in grassroots momentum nationwide."
All of this has big implications for the fate of the Senate as much as for the SCOTUS' makeup. There are currently 51 Republican senators, and 51 votes needed to confirm Kavanaugh. There are some toss-ups on both the Republican and Democratic side of the Senate, and while Vice President Mike Pence can serve as a tie-breaker (as he has numerous times in confirmation votes already), it would only take two defection votes in the GOP to outweigh this. So the timing couldn't be more crucial as the midterms near.
Senators' votes on the Kavanaugh confirmation could prove highly consequential in the midterms. There are 35 Senate seats up for reelection this year, and 26 are held by Democrats. Of those seats, ten are in states that went for Donald Trump in 2016 — meaning that those Democratic incumbents are playing defense this year in many red states, and votes on key issues like abortion can galvanize voter support or opposition. Politico points out that Sen. Dean Heller of Nevada, up for reelection this year, is under particular scrutiny as the only Republican in a state that went for Hillary Clinton in the 2016 presidential election. As Arizona Republican Sen. John McCain is out of Washington battling cancer and may not be present for the vote, the fight has gotten even tighter. And other senators remain toss-ups: Republicans Lisa Murkowski of Alaska and Susan Collins of Maine, and Democratic Sens. Heidi Heitcamp of North Dakota, Joe Donnelley of Indiana, and Joe Manchin of West Virginia.
Trump has said multiple times that he intended to appoint Supreme Court justices who would overturn Roe, leaving reproductive rights advocates worried. In Washington, some Democrats and advocacy groups have been calling to see Kavanaugh's record, centered on the judge's previous time in the White House serving the Bush administration. Of particular interest, as Center for American Progress' Shilpa Phadke writes for The Hill, is what role or influence Kavanaugh may have had in the confirmation of Justice Samuel Alito, a conservative who dissented in Whole Women's Health v. Hellerstedt.
On MSNBC's Morning Joe on July 30, Democratic Sen. Richard Blumenthal, who serves on the chamber's judiciary committee, expressed doubt over whether Kavanaugh would be confirmed.
"We're being denied the documents that we need to review for this nomination," he said, referring to documents pertaining to the judge's stances on executive power and abortion especially, in determining whether he would in fact seek to overturn Roe.
The majority of Americans support abortion, according to Pew Research, so the poll released Monday offers further insight for how voters may respond to the current confirmation fight.
"It's crystal clear that people across the country want a Justice who will uphold their life-saving legal protections," said NWLC Action Fund President and CEO Fatima Goss Graves in a statement. "Every day we hear from people who fear that their birth control or coverage of pre-existing conditions will be taken away, as well as their right to abortion. The polling results echo these concerns. Voters know what's at stake with this nomination. And without review of Kavanaugh's full record, they will be left in the dark."
Regardless of whether the Kavanaugh vote comes before or after the midterms, voters clearly are watching to see where their representatives stand on it — and on abortion rights more broadly.