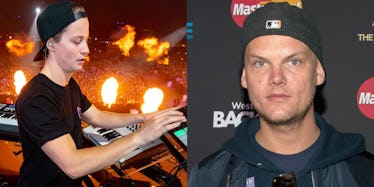 DJ Kygo Dedicated This Song To Avicii At Coachella & It Has So Much Meaning
Christopher Polk/Getty Images Entertainment/Getty Images
The second weekend of the Coachella music festival coincided with a sad moment for the music industry. The unexpected news came on Friday, April 20 that Avicii died at only 28 years old, and the Swedish DJ was thoughtfully remembered by a friend, DJ Kygo, later that day at the music festival. These tweets about DJ Kygo's Avicii tribute at Coachella show how much fans already miss the late electronic dance music (EDM) DJ.
According to CNN, DJ Kygo played his Coachella set on Friday, shortly after learning his friend Avicii died. To honor the DJ, who Kygo referred to as his "biggest musical inspiration" and "the reason why I started making electronic music," (according to a YouTube video of Kygo's Friday night set), Kygo closed his set with his favorite Avicii song. Before playing Avicii's "Without You," Kygo told the crowd he wanted to "celebrate the life of a true musical genius." He also shared just how big of an impact Avicii had on Kygo's own music career when he said, "I don't think I would be on this stage tonight if it wasn't for him."
Kygo then played Avicii's 2017 hit, "Without You," and he paid tribute on the screen behind him with a picture of Avicii and a message that read, "Avicii, Rest in peace. We will miss you."
It was truly a beautiful way to pay homage to Avicii's contributions to the music world, and fans shared emotional messages on Twitter after they saw the moving tribute.
Avicii's sudden death came as a shock to fans and his fellow musicians alike. According to Variety, the news of Avicii's death broke on Friday, April 20 through a statement from Avicii's representative that read,
It is with profound sorrow that we announce the loss of Tim Bergling, also known as Avicii. He was found dead in Muscat, Oman this Friday afternoon local time, April 20th. The family is devastated and we ask everyone to please respect their need for privacy in this difficult time. No further statements will be given.
The Swedish DJ began producing music at the age of 16, and he started touring just two years later at 18 years old, according to an interview he did with Billboard in 2016. Avicii also revealed in that April 2016 interview that he chose to retire from live touring at age 26, because, as he explained it to the magazine, Avicii shared that he "needed to make the change that I'd been struggling with for a while." As he continued to speak about the touring lifestyle, Avicii expanded on why he needed to leave it behind. He said, "It was always very hard for me. I took on board too much negative energy, I think."
Avicii had also been suffering from health problems before he quit touring. In 2014, he suffered from acute pancreatitis, and he had his appendix and gallbladder removed.
Despite his health issues, Avicii was able to make a lasting mark on the music industry, and Variety referred to him as being one of the most successful and popular EDM DJs of all time. Success came in the form of hit songs like "Wake Me Up" and "Levels," and he also won two MTV Music Awards and one Billboard Music Award.
Seeing as though DJ Kygo came on the EDM scene after Avicii, it makes sense that Kygo would have seen Avicii as an inspiration. And after the sentimental tribute Kygo gave Avicii at Coachella on Friday night, it's clear Avicii's music truly impacted Kygo and his music career.