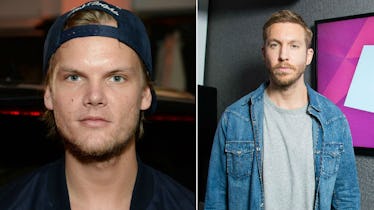 Calvin Harris' Tweet About Avicii's Death Will Break Your Heart
On Friday, Apr. 20, 2018, news was released that Swedish musician and DJ Avicii passed away. The "Wake Me Up" DJ was only 28 years old at the time of his death. Fans and artists across the globe are mourning the loss of the talented DJ on their social media platforms, and Calvin Harris' tweet about Avicii's death will break your heart.
Harris took to Twitter to write, "Devastating news about Avicii, a beautiful soul, passionate and extremely talented with so much more to do. My heart goes out to his family. God bless you Tim x." (Tim Bergling was Avicii's real name.)
The love for Avicii just shows how much of a strong influence he not only made on the music scene, but with his friends and fans as well. The DJ's death came months after the Netflix documentary following Avicii's career, entitled, Avicii: True Stories, was released in Oct. 2017.
According to Variety, Avicii's representative released a statement on Friday, Apr. 20, which stated, "It is with profound sorrow that we announce the loss of Tim Bergling, also known as Avicii. He was found dead in Muscat, Oman this Friday afternoon local time, April 20th. The family is devastated and we ask everyone to please respect their need for privacy in this difficult time. No further statements will be given."
Harris wasn't the only musician to tweet out his sympathies. Liam Payne, former member of One Direction, tweeted out, "Oh my god truly devastated for Avicii very very sad news way to young ... what a talent he was. rest in peace x."
Fellow EDM producer and DJ, Marshmello (aka, Christopher Comstock), also took to Twitter to tweet, "At a loss for words...Rest easy brother."
Though he was only 28, the DJ had set the music world on fire with Grammy-nominated songs like "Sunshine" with David Guetta, and "Levels." At the time of publication, David Guetta had yet to tweet out his condolences, though it is evident that the sudden death of the DJ has left a hole in the music scene. Avicii will forever be remembered for the amazing songs he gave us.
Musicians And Artists Are Sending Out All Their Love
Singer and songwriter, Dua Lipa, tweeted, "Such sad news to hear about Avicii passing. Too young and way too soon. My condolences go out to his family, friends and fans x."
Singer and former Girl Meets World actress, Sabrina Carpenter, also tweeted out, "Avicii contributed incredible art to this world. devastated to hear about this. Rest In Peace. X."
Actress Victoria Justice wrote on Twitter, "So sad to hear the news about Avicii today... RIP. Gone way too young. Sending love to his family, friends & fans."
"The Middle" DJ, Zedd, also tweeted out, "No words can describe the sadness I'm feeling right now, hearing about Avicii passing away.... Thoughts go out to his family and friends..."
Not only did Avicii's music have such an impact on fellow artists, but the DJ had also worked with many musicians over the course of his career, which included Aloe Blacc on his hit single, "Wake Me Up." According to Billboard, Avicii also worked with Wyclef Jean, Chris Martin, Matisyahu, Robbie Williams, Gavin DeGraw, Brandon Flowers, and Rita Ora on other collaborations.
Fans Are Reaching Out On Social Media To Honor Avicii
In addition to Avicii's fellow musicians who are feeling at such a loss, Avicii's fans are taking to Twitter to mourn and express their love as well.
RIP, Avicii. The DJ will be remembered forever for his incredible music and amazing impact on the music scene.