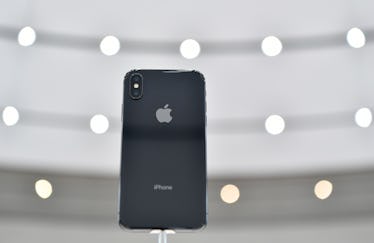 How To Dress Up As The iPhone X This Halloween If You're Feeling Tech-Savvy
JOSH EDELSON/AFP/Getty Images
Techies couldn't wait to get their hands on the coveted iPhone 8... until Apple completely sabotaged the item's debut within minutes by introducing the world to an even better device. The iPhone X stole the spotlight — and everyone's hearts — during the company's September keynote address, so it's only fitting to pay homage to the gadget this Halloween. In the spirit of the phone's anniversary model, Here are four DIY iPhone X costumes that'll upstage any other tech looks at your annual party.
Option 1: Hone in on an iPhone X feature.
The iPhone X's facial recognition system takes the device to new levels. Not only does it provide top-notch security — the chances of someone hacking into your phone with via facial ID is literally one in one million, according to Apple's September keynote address — but it also gives users the ability to make their favorite animated friends come to life.... so that means 3-D emojis.
Your favorite character will now be able to imitate your expressions thanks to this new tool. Obviously, that means it's the perfect option for a Halloween look. If you've been dying to get your over-used panda emoji to come to life, your phone and your costume are able to fulfill your wishes.
Option 2: Go the subtle route.
Who can resist a cute top? If you're not one to copy your favorite look from an emoji (or should I say anamoji) you can pay tribute to 21st century communication methods with a graphic tee. This $24 option from Spread Shirt gets a teensy bit sarcastic about people's phone habits, but it's completely spot on.
Option 3: Get your DIY skills on.
Want to really look like your favorite tech toy? Grab some cardboard (head to Staples for the appropriate size and price) and get a can of paint ($6.99 at Michael's) to literally box yourself into an iPhone costume. You can print enlarged photos of your home screen to complete the look. Take a gander at this number for inspo (just don't include the home button — those are a thing of the past).
Option 4: Make something you'd wear again.
Grab a white shirt ($9.99 from H&M), print out your favorite apps, get transfer paper ($8.59 on Amazon), and iron on your home screen (but again, not the home button).
According to an Apple press release, the $1,000 gadget is available to pre-order as of Friday, Oct. 27 at 12:01 a.m. PT. While speaking at a new store in Chicago, the brand's retail chief Angela Ahrendts said heading to the the the app store on Oct. 27 was the best way to secure your order, according to BuzzFeed News. What better way to get an end-of-day adrenaline rush than hopping on the app — while most people sleep — to order your cell?
For those who might have missed the initial rush in the wee hours of the morning, Apple's press release states that the X will be available in more than 55 countries and territories beginning on Nov. 3. Before you breathe a sigh of relief, note the brand's warning: "Stores will have iPhone X available for walk-in customers, who are encouraged to arrive early." My advice? Go to the Apple store now.
There's certainly a lot to look forward to with this big release. According to a press release, the iPhone X features an "Super Retina display, A11 Bionic chip with neural engine for powerful machine learning, augmented reality and immersive 3D gaming experiences, wireless charging and Face ID, [and] an innovative and secure new way to unlock, authenticate and pay." How high-tech!
There you have it folks, your go-to resource for all-things Apple this spooky season. Happy Halloween.
Check out the entire Gen Why series and other videos on Facebook and the Bustle app across Apple TV, Roku, and Amazon Fire TV.