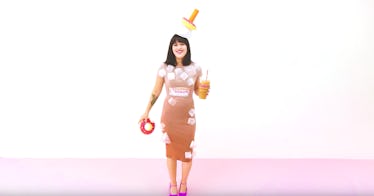 How To Make A Dunkin' Donuts Iced Coffee Costume That'll Make Your Halloween Party So Sweet
You donut want to miss an opportunity to show your favorite treats just how much you appreciate them. Since Halloween is right around the corner, now's the time to bring your A-game in the fashion department. DIY Dunkin' Donuts costume ideas make this time of year all the more sweet, so let your kooky creativity soar.
First thing's first, decide what treat to create.
Let's begin the DIY festivities with an iced coffee costume. It's sweet, delicious, and something you can't live without on Monday mornings. What better way to show your respect for the bev that helps kickstart your week than with a rockin' getup? Dunkin' just released a video that provides step-by-step instructions to help you get going. It goes without saying, but an iced coffee of your own is required while making the outfit (of course).
Brown Dress, $10, Forever 21 | Fabric Dye, $5, Michaels
Once you find a brown dress, you're ready to go. If you're feeling really creative, try dip dying it for an ombré sensation. Make acrylic cubes with frosted spray for the ice cubes and patch on the Dunkin' logo to your dress. Voila! You're one step closer to mastering the look.
Black Headband, $3, Claires
But what costume is complete without a headpiece? Find a headband, glue a dome stuffed with white tissue (for the whipped cream, of course) to add to that bad boy, and lastly, paint a toilet paper roll orange so that it looks like a Dunkin' straw. There you have it folks - iced coffee. For those who are very festive, throw an inflatable doughnut into the mix to top off your look — literally (it'll go on your headband). They're available at newchic.com in a variety of sizes starting at $5.
If you're more in the mood to dress as a doughnut, here's how to nail the ensemble.
Head back to an online retailer to find a doughnut flavor of your choosing. Newchic.com let's you select either a chocolate or strawberry doughnut (which comes complete with a little bite taken out of its side). Prices begin at $5, depending on what size you select. For argument's sake, let's select the strawberry doughnut (delicious and adorable). Halloween might not fall on Wednesday, but it's a perfect time to wear pink.
Red Long Sleeve Shirt, $15, Lands End | Pink Pants, $30, Target
Now the best thing to do is find a pink top and bottom to go along with the look. Grab a light pink long-sleeved shirt and light pink pants and there you have it — a doughnut lover's dream. It'll certainly be hard to resist a bite.
Now that you've picked a Dunkin' Donuts-inspired outfit, it's time to get serious.
Everyone's favorite brand is hosting a costume contest to celebrate All Hallow's Eve. Show the social media world — and Dunkin' — just how much you love its offerings. Post a photo of your costume on Instagram with the hashtag #DDCostumeContest for a chance to win a spot on a coveted New York City billboard... and $2,500 and a year's supply of coffee. Did this pique your interest? Visit www.ddsweeps.com to learn more.
During the costume planning stages, it's imperative to fuel up with tasty Halloween snacks.
Fortunately, Dunkin' just released a limited-time Almond Joy Hot Chocolate and Frozen Almond Joy Hot Chocolate to enjoy with your devilishly delightful Halloween doughnuts — Boston Scream, Witches Brew Berry, and other frighteningly fun offers.
Dunkin' is taking the spooky season to new levels, and customers cannot help but appreciate all of the fun perks that come along with this creepy, kooky, mysterious time of year. Happy Halloween, doughnut fans.
Check out the entire Gen Why series and other videos on Facebook and the Bustle app across Apple TV, Roku, and Amazon Fire TV.