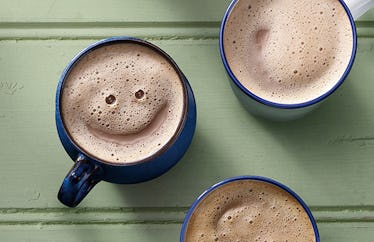 Dunkin' Donuts' New Almond Joy Hot Chocolate Is The Perfect Candy-Inspired Treat To Sip On Halloween
Dunkin' Donuts
Though pumpkin is the go-to flavor of the season, Dunkin' has provided a Halloween alternative to shake things up, all thanks to inspo from everyone's favorite candy bar. "How long is Dunkin' Donuts' Almond Joy Hot Chocolate available," you ask? The limited-time drink will be gone as quickly as you say "trick or treat."
There's no better way to ring in a season of sweets than with an ode to the chocolatey, coconut goodness. Almond Joy Hot Chocolate and Frozen Almond Joy Hot Chocolate are the perfect ways to get into the spirit of things. Let's face it: Who is strong enough to turn down a chocolate-coffee mashup? I'm certainly not inclined to pass up an offer like this.
Not only are the new menu options delicious, but they're a necessity during the busy spooky season. "These candy-inspired beverages serve up the famous combo of milk chocolate, almond, and coconut flavors for a fun new way to stay energized now and through trick-or-treating and beyond," according to a statement from Dunkin'. If you need that extra boost before your costume party — or if you're too afraid to shut the lights and go to sleep after a horror movie marathon — Dunkin' is here to give you that tasty caffeine rush.
Though it's unclear as to when the bevs will be discontinued, the Dunkin' statement reads, "Both Almond Joy Hot Chocolate and Frozen Almond Joy Hot Chocolate are available now at participating Dunkin' Donuts locations for a limited time." You definitely don't wait to indulge. Now's the time to make a beeline straight for your neighborhood store.
While you're at it, throw some spooky doughnuts into the mix. After all, what is a cup of candy-inspired coffee without accompaniment from a little something tasty? Thanks to Dunkin's spooktacular options, you'll be in for a ghoulishly good time.
Not only do the newly named doughnuts sport a Halloween look — orange sprinkles, black icing, etc. — even the names of the menu items are receiving the spooky treatment. The "Boston Scream" will feature your favorite chocolate icing (with added orange drizzle) with a creamy center. The "Witches Brew Berry" selection is all too tempting with its purple glaze. "Vampire's Delight" gives the jelly doughnut a taste of Dracula, and you will want to suck its berry blood. Even "Scary Strawberry" is adding pizzazz to its pink exterior with a mixture of black and orange sprinkles.
What we're most excited about however, is the Spider Donut — a treat that's almost too cute to eat. The new menu item is a glazed doughnut with orange icing and itty bitty black spider legs. At the center of the treat, you'll find the spider. Eek! Just kidding — the itsy bitsy spider is actually just a chocolate munchkin. Happy Halloween, indeed.
But menu items aren't the only way Dunkin' has decided to embrace the beauty that is All Hallow's Eve. Everyone's favorite brand is also hosting a costume contest. Show the social media world — and Dunkin' — just how much you love the store with a DD-inspired outfit. Post your photo on Instagram with the hashtag #DDCostumeContest for a chance to win a spot on a coveted New York City billboard... and $2,500, and a year's supply of coffee. Did this pique your interest? Visit www.ddsweeps.com to learn more.
While you're brainstorming your best doughnut-inspired Halloween costume, make a pitstop at Dunkin' for an Almond Joy Hot Chocolate and a bite of the ever-so-adorable Spider Doughnut. 'Tis the season to be spooky, so enjoy all the sweetness that goes along with it. Happy Halloween.
Check out the entire Gen Why series and other videos on Facebook and the Bustle app across Apple TV, Roku, and Amazon Fire TV.