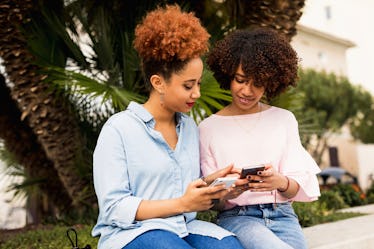 Why Distance Makes No Difference For Sisters, If She's Your Best Friend Forever
There's truly no part of me that could ever imagine what my life would be like without my sister. As much as she can yell at me, steal my things, and altogether just irritate me, she's one of the most important people in my life. If you have a sister who is also your best friend forever (and ever, and ever...), I'm sure the sentiment is the same. Even from afar, distance makes no difference for sisters who are true best friends.
When you have a sister, the way you view friendships is completely different. Sure, you have other friends, and you even have some amazing best friends. But, there's this unwritten rule: No one, and I mean no one comes before your sister. If she needed you, you'd drop just about anything to be there for her, and you now she'd do just the same. Your friendship isn't just best friends — it's on a whole other level. As much as who you are is a part of you, who she is is also a part of you. There isn't one of you without the other. Even as kids, it was always her name and your name, one after another, said in the same breath.
When she, or you, decide to move away for work, school, or whatever other reason, if can be a really hard adjustment. And "hard" doesn't even begin to cover it. Sometimes, it's downright devastating. How are you supposed to function without seeing her everyday? The truth is, this hurdle is difficult to overcome, but true sister BFFs can make it work no matter the distance. These five reasons explain just how close you really are.