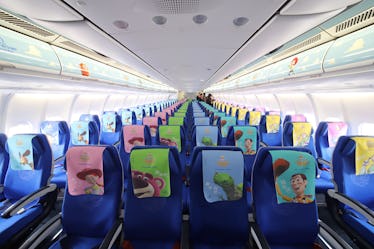 A 'Toy Story'-Themed Plane Exists & It'll Make Your Childhood Dreams Come True
Getty/ VCG / Contributor
It's been eight years since the tear-jerking Toy Story 3 gave me serious '90s-era nostalgia for my favorite band of toys. And with the fourth installment of the film slated to hit theaters in 2019, what better way to emotionally prepare for the newest member of the franchise than with a trip to infinity and beyond? Prepare to blast "You've Got a Friend In Me" on repeat, because the very first Woody and Buzz Lightyear-themed flight is here to make all your Disney dreams come true with an immersive experience full of your favorite characters. That's right: Disney's Toy Story-themed plane is here to help you (literally) reach for the sky with Buzz Lightyear flying by your side.
The playful aircraft — which Forbes reports took its maiden voyage on April 28 from Shanghai to Beijing as part of a partnership between China Eastern Airlines and Shanghai Disney Resort — features a colorful mid-flight Buzz Lightyear boldly emblazoned on its exterior. Inside, illustrations of fluffy clouds and characters like Woody, Lotso the bear, and Jessie the cowgirl decorate the overhead baggage compartments and the ceilings, while drawings of classic favorites like Mr. and Mrs. Potato Head, Slinky, and Rex adorn the seats and trays, according to CNN Travel.
Once you book the flight, which Disney Parks reports is currently only available domestically between Beijing and Shanghai (there are plans to expand to other Chinese cities in the future), you can expect the full Disney treatment after your favorite toys greet you at the departure terminal at Shanghai Hongqiao International Airport. According to Forbes, a commemorative boarding pass will grant you access to the aircraft itself, which features countless Toy Story-inspired touches, from headphones to silverware and food and drink options. The air stewardesses are even decked out with Minnie Mouse ears to really get you in the swing of things.
The Disney mania doesn't stop there once you get to Shanghai's Disneyland resort. After channeling your inner kid alongside all your favorite toys at the park's newly-opened Toy Story Land, you can book a stay at Disney's Toy Story Hotel in Shanghai and sleep in themed rooms filled with all the Toy Story details that your heart desires.
After sleeping under a peaceful mural of fluffy clouds and a bedspread paying tribute to Buzz and Woody's lasting friendship, slip out of your themed slippers to snap selfies with Woody and Jessie before heading back to the park to do it all over again. Hungry? Stay on theme by grabbing a bite at the the Sunnyside Cafe and Market, which Forbes reports is inspired by the preschool from the third film. They've literally thought of everything, and my 10-year-old self is so happy right now.
China Eastern Airlines and Shanghai Disneyland Resort's latest project lands in perfect timing with just over a month to go until Toy Story Land opens for the first time in the United States at Orlando, Florida's Walt Disney World Resort on June 30, 2018. The pair first delighted Mouseketeers around the world by releasing a royal blue Minnie Mouse and Mickey Mouse-themed aircraft in April, according to ABC News.
Unfortunately, the flight experience is only available for passengers flying from Beijing to Shanghai, and flights to China can be long and expensive. And while a trip to Disney World's new Toy Story land might be closer to home, I'd definitely be missing those cool flight perks.
Until China Eastern Airlines expands its flight path or there's a Toy Story aircraft in the States, you can book an immersive experience with EVA Air's Hello Kitty-inspired jet (where even the toilet paper is on-theme) with flight paths to Chicago and Los Angeles, or American Airlines' new Avengers plane, which even has characters from blockbuster hit Black Panther. Sanrio fans can even celebrate their favorite lazy egg with a Gudetama-themed plane. In the meantime, I'll be dreaming of ways to fly to infinity and beyond.