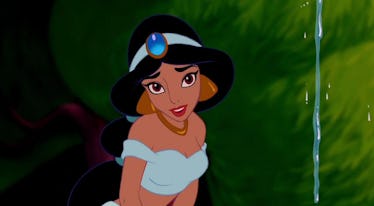 Princess Jasmine Will Finally Get Her Own Song In The Live-Action 'Aladdin'
Disney
Pretty much all of the Disney princesses have their own iconic songs — Ariel pines for life above-water in "Part of Your World," Pocahontas explores nature's majesty in "Colors of the Wind," and Elsa throws off her insecurities in "Let It Go" — but one princess has still never gotten her own true solo. Thankfully, that will change very soon, though, because Disney's live-action Aladdin is giving Princess Jasmine her own song, according to Variety. Yep — after over 25 years, Princess Jasmine will finally have her own song.
In the original 1992 animated Aladdin, Princess Jasmine only got to belt her heart out as part of a duet with Aladdin on "A Whole New World." Surprisingly, most of the songs in that movie are sung solely by Aladdin or Genie, with Jasmine left hanging on the musical front. But songwriters Benj Pasek and Justin Paul are going to remedy that situation in the upcoming Aladdin live-action remake. The buzzy musical theater composing team behind recent hits like La La Land, The Greatest Showman, and Dear Evan Hansen revealed that they teamed up with original Aladdin composer Alan Menken and have written a song for Princess Jasmine in Disney's upcoming remake of the movie.
The new song will be performed by Naomi Scott, the actress cast to portray Princess Jasmine in the new movie, whom composer Justin Paul said did an incredible job with the song. That makes sense because a large part of Scott's background is in music. Although she is best known recently for portraying the Pink Ranger in last year's Power Rangers film, Scott is also a pop singer with two EPs under her belt. Before embarking on her solo music career, Scott first showed off her singing chops as part of the cast of Disney Channel's musical movie Lemonade Mouth.
Benj Pasek and Justin Paul also revealed that they have written a new duet for Aladdin and Jasmine, as well as an added verse to the original film's song "Arabian Nights." Basically, Aladdin fans have a ton of new music to look forward to in the live-action adaptation.
Another fun musical element of the new Aladdin movie is the possibility of Will Smith's return to music. Smith is playing the Genie in the live-action movie. As many fans recall, Will Smith started out as a rapper in the late '80s and throughout the '90s, but chose to focus solely on acting as his movie career took off. But if the new Aladdin incorporates all of the original soundtrack songs (in addition to the new ones), then we may see Smith's take on the Genie's standout tracks "Friend Like Me" and "Prince Ali."
Along with Naomi Scott as Princess Jasmine and Will Smith as the Genie, the live-action Aladdin movie will star Mena Massoud as Aladdin, Marwan Kenzari as Jafar, and Navid Negahban as the Sultan. The movie is also adding two new characters to the story: Nasim Pedrad as Dalia, Princess Jasmine's handmaiden and confidant, and Billy Magnussen as Prince Anders, a suitor who travels to Agrabah to try to win Jasmine's hand in marriage.
The live-action Aladdin remake is slated to hit theaters on May 24, 2019.