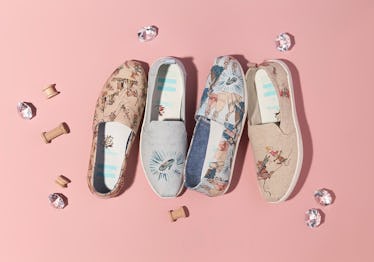 The Disney x Toms Collab Is Finally Here & They're The Most Magical Shoes On Earth
Cinderella had her glass slippers, but these are so much better than that, and probably more comfortable. The TOMS Disney shoes release date has been looming for a while now but the first drop of the limited-edition shoes are finally here. Want to know how to get a pair for yourself? Consider me your fairy godmother because I've got all the info.
A quick refresher course here: TOMS is the trailblazing shoe brand that is known for its One for One policy. For every pair of shoes sold, the brand donates a pair to a child in need. Since 2006, TOMS has provided over 60 million shoes to children in 70 countries all around the world. TOMS' One for One policy was so popular that the company expanded it into eyewear (granting prescription glasses), coffee (supplying safe drinking water), and bags (providing resources for safe birthing practices). Within all its incredible charity work, the brand has not forgotten its fun side, though, and is showing it off with the TOMS x Disney Collection.
The capsule collection is being released in three separate drops — if you're a Sleeping Beauty fan, mark your calendar for July 19, and Snow White lovers will have to wait until Aug. 23, but Cinderella fans must wait no longer.
Even better than the fact that this collaboration exists in the universe is the story behind the artwork. A press release for the collab said,
The collection features exclusive, never before seen artwork created by the all-female Ink and Paint department of Disney in the mid-1900s. They worked tirelessly behind the scenes hand-drawing and inking the individual images that were transformed into the classic Disney movies near and dear to every child's (or adult child's) heart.
Disney reached into archives and pulled drawings from a previously little-known all-female art department and is giving these past women creators the spotlight they deserve. The press release continued,
Today, TOMS and Disney come together to celebrate those memories and the women who helped create them with their collection. The collection encourages and empowers women and girls to pursue their dreams.
The historical collection offers shoes for women, children, and toddlers as well as sunglasses! All of the shoes and eyewear come in specially designed Disney x TOMS packaging. The women's footwear range in price from $65 to $75 and the adult eyewear from $170–$190. Just as with typical TOMS products, the Disney collection will provide the One for One promise, so you're essentially getting a two for one deal and doing a good deed by ordering a pair. Check out some of the highlights from the first drop below!
Disney x TOMS Taupe Gus & Jaq Women's Carmel Sneakers
This lace-up, low-top sneaker features Cinderella's handy helpers who got her ready for the ball.
Disney x TOMS Taupe Gus & Jaq Women's Deconstructed Alpargatas
A slip-on pair features a similar scene from the story. The hot pink accents on these really make the drawings pop.
Disney x TOMS Blue Cinderella Glass Slipper Women's Deconstructed Alpargatas
You can have your very own version of Cinderella's glass slippers with this blue pair. They're just as cute but look way more comfortable than a shoe made of literal glass.
They're v sparkly, though.
Disney x TOMS Taupe Gus & Jaq Women's Classics
TOMS didn't forget its signature shoe style with this collection. The taupe pair features more of Cinderella's mice friends who helped get her ready for the ball where she met Prince Charming.
Disney x TOMS Blue Cinderella Women's Classics
The blue set shows Cinderella in a few different gown sketches as well as the famed glass slipper.
This gif: me running off to go buy these shoes.
Shop the full Disney x TOMS collection online now!