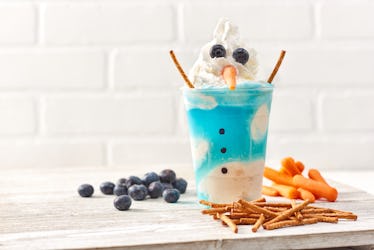 These Holiday Treats At Disney Springs Are Almost Too Insta-Worthy To Eat
Courtesy of Patina Restaurant Group
Pumpkin, gingerbread, and waffles — oh my. There are many things to look forward to this holiday season, most especially if you're a foodie. And it seems like Disney was listening when you wished upon that star, because Disney Springs' 2019 holiday desserts are here to make your sweet dreams come true.
All you need is to bibbidi bobbidi boo yourself a plane ticket to Florida so you can try them out for yourself. Not only are these treats delicious, but they're also the textbook definition of Instagram-worthy. That's why I've put together this foodie guide for you to see everything that needs to go on your bucket list ASAP.
In between eating and snapping pics for the 'Gram, you and your friends can do some holiday shopping at the massive World of Disney, that has pretty much every piece of Disney merchandise you could imagine. Get your family some matching holiday sweaters, and treat yourself to a parks food Loungefly backpack.
Once you've completed your shopping, it's time to go back for round two of some tasty holiday desserts (all of which are available at Vivoli il Gelato in Disney Springs). If that doesn't sound like the perfect holiday weekend, I don't know what does.