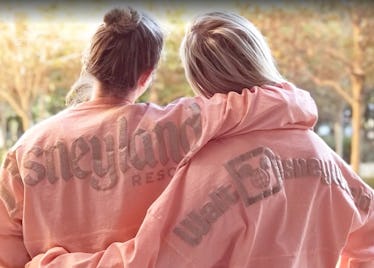 Disney Rose Gold Spirit Jerseys Exist To Make Your Next 'Gram Glittery & Magical
Disney Style
Disney has done it again. Not only does Disney draw us in because it's The Happiest Place On Earth, but the keepsake clothing and accessories always have us coming back for more. You're not even ready for its new release, but I am going to tell you, regardless: Disney rose gold spirit jerseys are a thing, and if you're rushing to go get one as we speak, it is totally understandable. Seriously, why are you even still reading this? Go!
Rose gold? For real? You know millennials are all about that rose gold shade on literally everything. We could hardly handle ourselves when the rose gold Minnie Mouse ears surfaced, and now Disney is giving us a sweet addition to complete our more than stellar Disney outfits. Is this even legal? Everyone knows that your outfit for a day spent at Disney is just as important as actually going. You have to show your Disney spirit at all costs.
The fit for these babies seems super relaxed and laid-back, and you're going to want to basically rock one everywhere you possibly can. The writing on the back of the jersey is glittery and shimmers as you eagerly walk to every ride in the park.
You can stop pinching yourself. It's actually real.
Call it basic if you want to, but this rose gold duo is hands-down one of the most adorable outfits you could ever slay at Disney. Disney is so freaking good at keeping our attention on it entire franchise. I mean, how could you not want this shade in absolutely everything you own?
This colored jersey just started selling in December, and apparently, it isn't staying on those shelves for long, because people are snatching it up like it's no one's business. I don't think you could honestly pass this by in a Disney shop and not stop, stare, and grab one for yourself.
Actually, buying a few couldn't hurt, either.
Solo or in a group, this rose gold jersey pops, and you almost have to take a second look to verify that this is actually Disney, but it's all in the sparkly print. It almost doesn't seem real that something so undoubtedly comfortable and rose gold could help you represent one of your favorite places ever. Also, if you are still doing some last-minute gift shopping and you happen to be friends with a Disney lover, this would be absolutely perfect for them. Get ready for endless amounts of thank yous and super big and long hugs.
Don't forget to strike several poses for the perfect 'Gram.
Instagram and Twitter are going to be at your mercy once you pair those ears and jersey together for the first time and then proceed to wear it over and over again. The outfit was simply made for social media and proudly parading around the park like you own the place. Disney merchandise is basically an investment, right?
As much as this outfit is inevitably going to be worn by so many other Disney lovers like yourself, you each will have a special and unique way of making it your own with tremendous ease. I mean, who is honestly complaining about having the same outfit when you're walking through the park? There are princesses, Goofy, and Mickey Mouse strolling around — ain't nobody got time for that #haterade.
Disney may be The Happiest Place On Earth, but now all of us rose gold lovers get to harbor a piece of that happiness in our closets and drawers. Disney knows what it's doing, and we are so here for it.