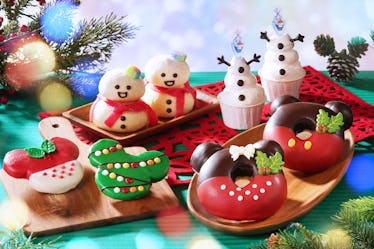 Disney's Holiday Treats Around The World Are Cuteness Overload
Courtesy of Disney Parks
If you thought the Disney Parks were properly decking the halls at Disney World and Disneyland, wait until you see how merry the parks in the rest of the world are looking as well. Not only can you expect full-on Disney magic, but Disney's 2019 holiday treats around the world are here, and they need to be enjoyed this festive time of year.
Disneyland Paris, Tokyo Disney Resort, Hong Kong Disneyland Resort, and Shanghai Disneyland Resort are gearing up for the season by serving up delicious treats you should add to your foodie bucket list ASAP. Of course, you can expect that Disney touch with everything on the menu. That means each one of these eight treats are Instagram-worthy, and some are even shaped like Mickey Mouse himself.
Depending on how hungry you are, this might just be the thing that convinces you to book your flight for a last-minute trip abroad to a Disney resort for the holidays. Or maybe your fam is already planning to visit one of these resorts in December. Either way, you need to remember to snap some pics before you take your first bite of your sweet treat, because everything is too cute for words.