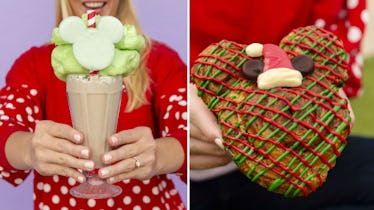 Disney's Holiday Treats Are Officially Here & They're A Very Merry Must For Your Insta
It's the most wonderful time of the year, so naturally, you want to spend it at the place where your favorite fairy tales come to life: Disney. Disney and the holidays really have so much in common. They bring families together, make you believe in magic, and with the Disney 2018 holiday treats lineup, there are a lot of incredible sweets to enjoy. If your family is planning on taking a trip to Magic Kingdom for the holidays, you'll want to add their new Insta-worthy desserts to your bucket list, right next to "get a selfie with Mickey."
The iconic holiday celebration, Mickey's Very Merry Christmas Party, is back at Disney World's Magic Kingdom Park. Having kicked off on Nov. 8 and lasting through Dec. 21, guests can treat themselves to an exclusive event that includes festive characters, a Christmas parade, and even holiday treats that were made for the 'Gram.
Mickey's Very Merry has been a tradition in my family since I was little, and I always looked forward to the sugar cookies and hot chocolate. Nowadays, Disney has really stepped up their treat game. They're offering the most magical desserts for the event that you have to see to believe.
It's also not just Magic Kingdom that's getting into the merry spirit of the season. Disney's Hollywood Studios is throwing their very own Flurry of Fun from Nov. 8, 2018 through Jan. 6, 2019 that has a special holiday projection show on the Hollywood Tower Hotel, and specialty treats as well. With so much great food to be had, you'll be wanting to trade in your Christmas tree in for a castle and spend the holiday season with Mickey this year.