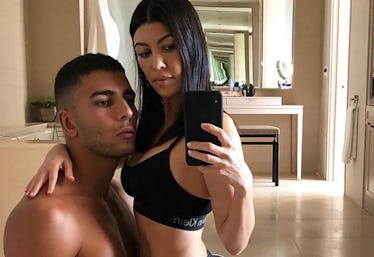 Younes Bendjima Just Responded To Rumors He May Have Cheated On Kourtney Kardashian
Kourtney Kardashian/Instagram
Is love dead? Seriously, I need to know. Because as if it wasn't bad enough that Tristan Thompson reportedly cheated on Khloé Kardashian while she was about to go into labor with his baby, rumors are now circulating that another Dash doll's boyfriend may have gone astray. Did Younes Bendjima cheat on Kourtney Kardashian? Because I legit cannot take it if he did. I need one of these relationships to work out, OK? Like, for real. How else am I supposed to believe in happily ever after?
Anyway, here's the deal: Kourtney was away on a Turks and Caicos vacay with Kim. Why these two decided to take off so close to their sister's due date is not clear — nor is what Kourt's BF was up to while she was away. According to the Daily Mail, Bendjima was hanging out with two mystery ladies in Beverly Hills and he "was seen hugging one of his pals goodbye after the trio enjoyed a sushi dinner at Matsuhisa together on Tuesday night."
Um... enjoying dinner? Hugging goodbye? None of this seems too scandalous to me. Can't a guy go out and grab some Chilean Sea Bass and Truffles with his pals in peace?
Bendjima was so not here for the publication's insinuations, so he took to his Instagram story to set the record straight. "Daily Mail aka Daily Bullsh*t," he wrote. "Where are the 6 other men I was with? What you guys trynna do? Nice cut tho you piece of sh*t."
Tell 'em, Younes! Seriously, doesn't this family have enough to deal with right now without more bogus allegations being tossed into the mix? I'm so glad Bendjima wasted no time rolling up on Insta to shut down the rumor mill. I just can't take any more negative Kardashian news, and I seriously love these two together so I'm so glad things seem to actually be OK.
Kourtney Kardashian just seems so much more carefree with Bendjima than she has been in the past. Remember on March 30 when she posted a pic of herself on Instagram straddling him on a bathroom floor while wearing a Calvin Klein bra and rolled-down pair of jeans?
Could these two be any hotter? Meanwhile, according to E! News, Bendjima was actually on that Turks and Caicos vacay that Kourtney took with Kim the week of April 7. He must have just come home before her or something. Because the site reported that according to a source, the couple stayed in a private villa at the five-star Amanyara Resort for five days, with their own a private swimming pool and chef.
"They seemed like they were on their honeymoon the way they held hands and smiled at each other," the source said. "They spent time on their deck listening to music and had massages with a masseuse. They rode their bikes all over the property and chased each other down to the water. Their villa came with a golf cart and they took it to dinner at the resort's restaurant and to look at the ocean and views."
Sounds amazing! Kourt even shared videos on Snapchat riding a yellow bike around the property.
And of a lazy ceiling fan spinning above the bed in a room overlooking the pool.
Looks like paradise to me! It's been about a year-and-a-half since Kardashian and Bendjima first became an official thing, and I am really rooting for this one to last. So, can you please make it happen, guys? Also, if you could give yourselves a nickname that's better than Kounes or Yourtney while you're at it, I'd really appreciate it. K thx bye.