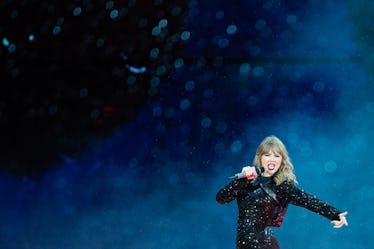 Taylor Swift Got Half Her Midterm Elections Wish With This Candidate's Victory
Mark Metcalfe/Getty Images Entertainment/Getty Images
The results of the midterm elections are in, and many people are wondering what happened with the two candidates Taylor Swift endorsed ahead of the election, and whether Phil Bredesen and Jim Cooper won their elections. According to multiple reports, at least one of her favored candidates won on election night. So it looks like her reputation just went up a notch when it comes to politics.
Swifties got their first disappointment in the night at around 9 p.m. ET, when the Tennessee Senate race was called in favor of Republican Marsha Blackburn, defeating the Swift-backed Bredesen. Bredesen's initiatives ranged from providing affordable health care to working Tennesseans to supporting DACA, a program to give legal status to young immigrants brought into the country as children.
Cooper, on the other hand, won his bid against Republican Jody Ball. According to ABC News affiliate WKRN, Cooper, who was running for re-election in Tennessee's 5th District, ran on a platform that included protecting the Affordable Care Act (ACA) and pushing Tennessee to expand Medicaid.
Swift endorsed the candidates in an Instagram post on Oct. 8, simultaneously breaking her career-long silence on politics. In the post, Swift expressed her support for Bredesen over Blackburn, citing Blackburn's record on issues like her vote against reauthorizing the Violence Against Women Act (VAWA) and her record on LGBTQ+ rights. The "Bad Blood" singer then wrote that she would be voting for Cooper, suggesting that he aligns with her "Tennessee values" most.
The post read, in part:
In the past I've been reluctant to publicly voice my political opinions, but due to several events in my life and in the world in the past two years, I feel very differently about that now. I always have and always will cast my vote based on which candidate will protect and fight for the human rights I believe we all deserve in this country. I believe in the fight for LGBTQ rights, and that any form of discrimination based on sexual orientation or gender is WRONG. I believe that the systemic racism we still see in this country towards people of color is terrifying, sickening and prevalent. I cannot vote for someone who will not be willing to fight for dignity for ALL Americans, no matter their skin color, gender or who they love.
Clearly, the post had some impact. Following Swift's Instagram, Vote.org reported that it saw an unprecedented surge of new voter registrations. Kamari Guthrie, director of communications for Vote.org, told Buzzfeed News of the bump in registrations:
We are up to 65,000 registrations in a single 24-hour period since T. Swift's post ... Vote.org saw [Tennessee] registrations spike specifically since Taylor's post.
"Thank God for Taylor Swift," Guthrie added.
Looks like some of those people followed up at the polls on Election Day, too. While Swift might not have got her complete wish of having both Bredesen and Cooper in office, she's at least got one of them. And I bet that's somewhat satisfying to her — even if only a little bit.