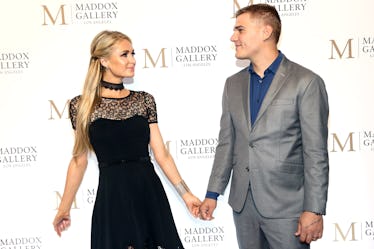 Paris Hilton's Ex-Fiance Reportedly Wants That $2 Million Engagement Ring Back
Tommaso Boddi/Getty Images Entertainment/Getty Images
If breaking up with someone is hard, calling off an engagement sounds about 10 million times harder. On top of the heartbreak that comes along with any sort of split, you have to inform friends and family that the wedding is off, you lose money on deposits made, and, last but not least, you have to figure out what you're going to do with the ring. Because not everyone gives it back. For example, did Paris Hilton give her engagement ring back to Chris Zylka after reportedly calling off their engagement? Well, sources say she may try to keep it for herself, and Elite Daily has reached out to both stars' reps for comment.
TMZ reports that Hilton still has not returned the massive diamond ring back to Zylka. This is a pretty huge deal because TMZ also reports that Hilton's gigantic rock is valued at two million dollars. I mean, it's not surprising considering the publication also reports her ring has an out-of-this world 20-carat diamond that took the Greene & Co. jewelers about four months to cut.
That being said, TMZ also noted that Hilton reportedly has a close relationship with the jeweler who sold the ring to Zylka and that he may have gotten a pretty big discount. I mean, let's face it. The press that comes along with Hilton rocking their jewelry is worth the discount.
Even if Hilton may be keeping the ring for herself for now, she might eventually be legally obligated to give it back to her now ex. Why, you ask? Well, Hilton was reportedly the one to break off the engagement, which, under California law, obligates her to return it to her ex.
TMZ reports that, although Zylka allegedly has not asked for the ring back, an inside source says he does, in fact, want it back.
Hilton and Zylka got engaged at the beginning of this year during a trip to Aspen. In an Instagram post around that time, Hilton wrote of Zylka:
Never in a million years did I think I would find someone so completely perfect for me. 😍Someone who would make me happier than I ever dreamed I could be. Someone that would touch my life so profoundly & give me a whole new reason to breathe. But then I found you & realized that everything I anticipated you to be doesn't even compare to how incredibly amazing you are..
Before the proposal, TMZ reports the two were dating for about a year. According to TMZ, Hilton called off the engagement several weeks ago because she simply realized that Zylka "wasn't the one" for her and that they "moved too fast."
The split reportedly didn't come as a shock to people close to Hilton, either. "No one is surprised by this at all. Paris got caught up in wanting a wedding ([siblings] Nicky and Barron Hilton are both married) and she just didn't think about the marriage part," a source told PEOPLE. "It was never going to work with Chris."
Just yesterday, Hilton took to Instagram again to post a video of herself dressed as Marylin Monroe along with this caption:
My favorite Marilyn Monroe quote. ✨"I believe that everything happens for a reason. People change so that you can learn to let go. Things go wrong so that you appreciate them when they're right. You believe lies so you eventually learn to trust no one but yourself. And sometimes good things fall apart so better things can fall together."✨
People are taking that quote to be a hint at her breakup but, hey, who knows?!
At the end of the day, the important thing is that both Hilton and Zylka are happy and that she was able to make the right decision for herself, even if calling off an engagement isn't always the easiest thing to do.