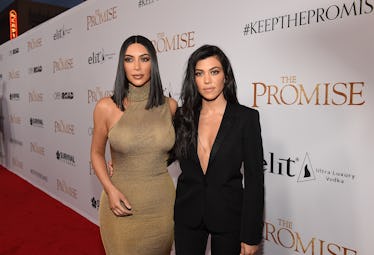 This Is Why Kourtney K's Latest Instagram Story Might Have Been A Jab At Kim
Kevork Djansezian/Getty Images Entertainment/Getty Images
The Kim and Kourtney Kardashian drama is picking up steam, and I don't know how I feel about it. After a series of uncalled for, totally rude comments from Kim to Kourt on the latest season of Keeping Up with the Kardashians, I kind of assumed (Read: hoped) that they'd put all that negativity behind them and moved on. LOL. Well, a new post on Kourtney's Instagram Story hints that the feud is very much alive and well, and I don't blame you for wondering if Kourtney Kardashian shaded Kim with this diss track. From the sounds of it, the eldest Kardashian sister is the one with the sharp tongue now. Elite Daily reached out to both Kim and Kourtney Kardashian's representation for comment on the IG Story but did not hear back by the time of publication.
On Thursday, Aug. 23, Kourtney took to Instagram to share a track from fan Mr. Grande, and it is ~ brutal ~ in its portrayal of Kim, according to Us Weekly. The track is called "If The Kardashians Had A Rap Battle..." so you know that the lyrics are about to get harsh.
"I'm the oldest of the fam / But I look the best / I'm a skinny legend / All the fans are all obsessed," the track begins before picking up steam. "When ya talk about my family / You say Kourtney and the rest / No one recognizes Kim / Until she's undressed." Ouch.
The track continues, "I think that I just spilled way too much of the tea / When you think about shade, yeah, you think about me / I have a busy schedule, yeah I got places to be / After all, I'm the only one with a degree." Um, consider all the tea spilled. Kourt graduated from University of Arizona, which is likely what's being referenced in the track. And it also references Kourtney's schedule that was a point of contention while scheduling the family Christmas card — and what led to Kim K calling her older sister the "least interesting to look at."
My mind is officially blown. Luckily, Kourtney didn't share the rest of the sassy track, which reportedly mentioned Kim's notorious sex tape with Ray J, among other things.
While Kim has yet to respond, it looks like Khloé Kardashian may have had ~ feelings ~ about the Instagram Story diss. She took to her own Instagram Story on Thursday, Aug. 23 to post a message about growth and kindness. Of course, you don't know if Khloé was referring to Kourt's Story, but it's a definite possibility.
"Just because you did something wrong in the past doesn't mean you can't advocate against it now. It doesn't make you a hypocrite, you grew," she wrote on the social media app. "Don't let people invalidate your current mindset … Growth. A concept. Embrace it."
If that wasn't clear enough, the fitness guru continued, "Kindness makes you the most beautiful person in the world. no matter what you look like…" OK, Khloé.
Personally, I'm wondering where her message about kindness was when Kim was being rude AF and shading her sister's looks and work ethic on national television. Yes, Kourtney's comeback is pretty brutal, but it feels like she's evening the score by clapping back at Kim. Maybe?
If anything, her sharing the fan track proves she's not willing to take insults about her being the "least interesting to look at" laying down, and I totally respect her for it.
Now the question is: will Kim respond with a shadier-than-thou tweet, as she's wont to do? Will she make her own diss track? I'm staying tuned. In the meantime, head over to Kourtney's Instagram Story, because the shade is real, y'all.