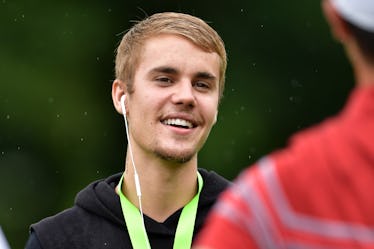 Justin Bieber Responded To A Toddler Who Said He "Quit" Music By Teasing New Music
Stuart Franklin/Getty Images Sport/Getty Images
What does Justin Bieber do when a devastated toddler questions whether he quit singing? Well, he responds! And he does so in the sweetest and most mysterious way possible. In a video posted to Bieber's Instagram, a toddler suggests that the singer has quit performing for good. Bieber apparently caught sight of the video and decided that her questions needed a prompt answer. So, did Justin Bieber quit singing? Justin Bieber's reaction to a toddler saying he "quit" is actually a huge hint that new music is coming!
In the video, you can hear the little girl say that Bieber has quit singing and while her mom probes for more information, another child who is off-screen suggests that Bieber wanted to go to church more often. And that prompts a bit of a protest from the little girl. In any case, the girl's main point is that Bieber quit his music career.
Bieber's response to the girl, which can be found in the caption of the Instagram post, suggests that the opposite is true. He also suggests that new music is coming, which is exciting!
"Don't believe everything you read sweet little girl you will hear something from me sooner than you think," Bieber wrote.
So, what does that mean, exactly? Is Bieber working on new music? Has he already recorded a whole new album? All of that is unclear, but if that caption is anything to go by, then I'd say all the Beliebers out there can expect some new music soon!
Here's a look at Bieber's Instagram post:
The last time Bieber released an album was Purpose way back in 2015, so a new album is long overdue. That's not to say he hasn't been working. Bieber was on a world tour for his Purpose album from 2016 to 2017, so really, it's only been about a year since Bieber was on stage doing what he does best.
And back in August 2018, he worked on a collaboration with DJ Khaled and Chance the Rapper called "No Brainer," so Bieber's been working and singing, just not at the pace he used to. There's a good reason for that, though.
For much of 2018, Bieber has been enjoying a serious romance with Hailey Baldwin. The romance was so serious and fast-moving that the two even got married in October 2018, just months after rekindling their romance.
In recent days, both Bieber and Baldwin have been opening up about their marriage. In an Instagram post published the day after Thanksgiving, Bieber wrote:
Happy late thanksgiving to everyone. First thanksgiving as a married man, first time hosting thanksgiving. First time both sides of the family has come together. Relationships are hard and love isn't always easy but thank you Jesus for showing me how! Every day is a learning process, trying to be more like him, patient, kind, selfless, boy I got a long way! But gods grace is sufficient !
And Baldwin recently revealed to Vogue Arabia that she and Bieber want kids in the future:
"I love kids and I can't wait to have my own," she said. "I would say now that's a closer reality."
So, Bieber has been really busy in his personal life which likely is the reason he hasn't released new music recently. But it seems like something new will be coming soon!