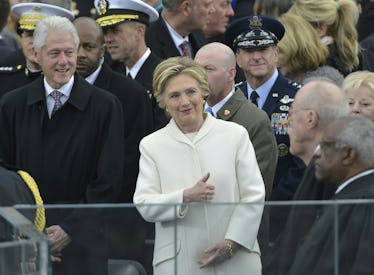 Hillary Clinton Tried Skipping Trump's Inauguration In The Most Relatable Way Possible
MANDEL NGAN/AFP/Getty Images
Imagine the most awkward situation you've ever been in. Now double it by a thousand. That is what Hillary Clinton had to deal with when she attended Donald Trump's inauguration. If you watched clips from the day, the former presidential candidate seemed measured and serene. It turns out that Hillary Clinton tried to avoid the inauguration — and it's actually a really funny, albeit supremely depressing, story.
On Jan. 20, Trump was sworn in as the president of the United States. In a perfect world, Clinton could have been far away, watching an episode of her favorite show, The Good Wife, or going for one of her dreamy walks through the woods. But, sadly, as a former first lady, it was kind of expected that she go.
Not that she didn't try to get out of it. During an interview on The Graham Norton Show, Clinton explained,
We thought maybe others aren't going. So we called the Bushes. The elder Bushes were in the hospital, which I think was legitimate. So then we called the younger Bushes and they said, 'Yeah, we're going.' Then we called the Carters and they said, 'Yeah, we're going.' So Bill and I said, 'Well, we have to go.'
On the surface, Clinton really rallied the day of.
But inside, she was pretty horrified by what she was hearing on stage. She recalled,
What I wanted to have happen was, despite the kind of campaign he ran, I wanted him to rise to the occasion of being our president, and being the president of everybody, not just people who supported him. That didn't happen. So we were sitting there and we were listening, I was sitting next to George W. Bush and Bill was on my other side, and we were listening to this really dark, divisive speech that I describe as 'a cry from the white nationalist gut.' I was so disappointed and really so sad that it wasn't an outreach, it was a narrowing and a hammering of what he said before.
Clinton then quipped: "It's reported that George W Bush said as [the speech ended] 'that was some weird sh*t.'"
Next to Bush's poncho struggles, that quote was probably the highlight of the day.
The former Secretary of State also delved into her recent war of words with the president on Twitter.
It all started when Trump tweeted out this, in response to Clinton's book What Happened:
Clinton came right back with this very helpful suggestion:
Are we maybe seeing where Chelsea Clinton gets all of her epic Twitter shading skills from?
Now, the former Secretary of State doesn't always clap back at Trump's angry tweets about her. After all, she explained on The Graham Norton Show, "there are so many."
She does make some exceptions, though.
"I do respond when I think what he has said is hurtful and unfair, and really causing problems for people," Clinton explained.
She went onto criticize the president for the flippant way that he uses Twitter, saying,
The most dangerous thing he does is conduct diplomacy on Twitter. So he is trading insults with Kim Jong-un, which is just like catnip for Kim Jong-un. He just loves the idea that he's in a Twitter insult-fest with the President of the United States.
This isn't the first time that Clinton has emphasized the potentially catostrophic situations Trump could put the United States in.
During an interview with the Australian Broadcasting Corporation in October, Clinton said that "the whole world should be concerned." She also affirmed that Trump is, indeed, the most dangerous president that the U.S. has ever had.
"I think he is, because he is impulsive, he lacks self-control, he is totally consumed with how he is viewed, with how people think of him," she said. "He is vindictive."
Whew. It's a scary, strange time for America right now. In the meantime, if you're ever about to face any potentially awkward social situations, remember Hillary Clinton. If she could get through Trump's inauguration, you can do anything.