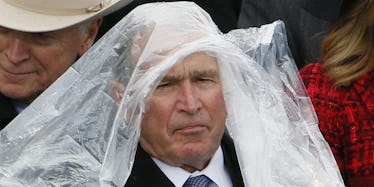 What George W. Bush Muttered At Trump's Inauguration Couldn't Be More Accurate
REUTERS
Former President George W. Bush was never known for being good with words.
This is a man who struggled to properly say "nuclear," for example.
But, his assessment of President Donald Trump's inauguration, which was an exceptionally surreal affair, was pure poetry.
According to three people who were with Bush on Inauguration Day — according to New York Magazine — this is what the former president said after Trump's inaugural address, and it might his best quote ever,
That was some weird shit.
Weird shit, indeed.
Bush, you captured the spirit of a nation.
You can't blame him for his reaction.
After all, he'd just witnessed the presidential inauguration of a reality TV star with a penchant for conspiracy theories who had been endorsed by the KKK and was caught on tape bragging about sexual assault just weeks before the election.
Yes, all of the above is true, and somehow, a perfect storm occurred and this overgrown toddler with a Twitter addiction actually became our president.
Congrats, America!
Long story short — from the moment Trump was elected, January 20, 2017 was always going to be "some weird shit."
Not to mention, Trump's inauguration speech painted a picture of a dystopian America that doesn't actually exist. At one point, he said,
The crime and the gangs and the drugs that have stolen too many lives and robbed our country of so much unrealized potential. This American carnage stops right here and stops right now.
But, here's the thing: Violent crime in the US has actually declined significantly over the past 30 years or so.
On top of Trump's apocalyptic, fallacious rant, it started raining just a few seconds after he was sworn in.
It was if Mother Nature herself was crying, which is actually quite appropriate, given the fact Trump doesn't give a shit about the environment.
So, Bush has arguably never been more correct. It was a bizarre day.
Citations: What George W. Bush Really Thought of Donald Trump's Inauguration (New York Magazine)