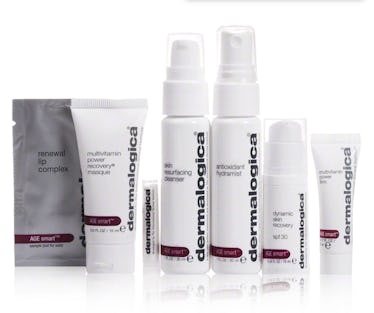 DermStore Is Having A Huge Sale On Dermalogica Products, So Your Skin Is Gonna Be So Fresh
It's officially summer, you guys,  and DermStore's 20 percent off sale on Dermalogica is here to bless your skin throughout the season. The brand, which was established in 1986, is still a bit niche, despite being offered in over 80 countries and having won over 300 awards for their high-quality products. But for those who know all about the specialized skincare line, you know it's well worth the splurge — especially if you have sensitive skin.
Dermalogica's standard no frills, white packaging proves they aren't fussy with looks — except when it comes to their clients. They say they're much more focused on creating formulas with quality ingredients to meet their customer's personalized skincare needs than to "color coordinate with your bathroom," according to their website. Not to mention, the brand's products are also cruelty-free. That's something I can always get with.
While it's unclear when the sale ends officially, for the time being you can save a couple coins off Dermalogica's products when you shop via dermstore.com. So if you have yet to indulge in the specialized skincare line, this may be your chance to finally give your skin a refreshing, new treat.
Now, let's talk about a few products under $50 you should definitely snatch up during this sale.
This rich body wash will both cleanse your skin and leave it feeling oh-so soft. With a blend of essential oils and a mixture of scents, including eucalyptus, lavender, sandalwood, and lemon, this formula will not only soothe your skin, but also your mind. It's paraben-free and works for all skin types — yes, including acne-prone — so it surely will not clog pores.
Sunscreen should be worn year-round, but in the summer time, it's especially important to guard your skin. With this tinted primer, you'll get SPF 30 protection, plus a formula that will fill in fine lines and large pores for a gorgeous, smooth finish. The best part? It can be worn both alone and under makeup.
If you've got oily or acne-prone skin, this face wash is a Godsend. With salicylic acid as one of the main ingredients, dead skin cells (which clog the skin) will vanish. Balm mint, eucalyptus, tea tree, burdock, and other soothing ingredients will help to calm irritated skin and, overtime, leave it looking cleaner and softer than ever.
After winter (and sometimes even spring, if the weather is up and down), our lips can get a lashing and are often left chapped, peeling, and dry. This product fuses together cocoa butter, avocado oil, rice bran oil, and other rich ingredients to give dehydrated lips a moisture surge. Free of artificial fragrance and colors, it won't cause irritation, either.
Using a vitamin B complex with niacinamide, biotin, zinc gluconate, and more, this formula offers relief from irritation associated with painful acne, as well as oil production control. Salicylic acid gently exfoliates the skin to prevent future breakouts, while rosemary and spiraea extract help to kill acne-causing bacteria. You'll wake up with clearer, healthier-looking skin.
Now, this is what you call a steal. Seven products for less than $50 is virtually unheard of — until now — and it's perfect for anyone who's starting anew on their skincare journey. This kit includes the Skin Resurfacing Cleanser, Antioxidant Hydramist, Multivitamin Power Recovery Masque, Multivitamin Power Firm, Dynamic Skin Recovery SPF 30, and MAP-15 Regenerator. After trying these out for a few weeks, your skin is sure to look radiant.
Summer time is the perfect time to show off beautiful, glowing skin. And with this sale offering such great and affordable deals, there's no better time than now to hop on the Dermalogica train and get your new skincare regime going!