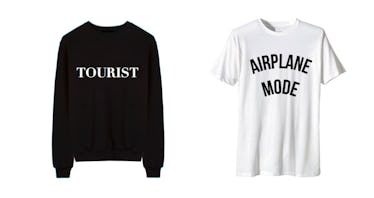 Upgrade Your Airport Style With This Celebrity-Approved Athleisure Brand
Are you planning one last summer getaway? Do you know what you're going to wear for your travel days? Departure clothing brand is about to be your new go-to store for chic, comfortable travel looks.
You know the conundrum: You've already packed all of your cute outfits for the trip and it's time to pick your airport #lewk. You want to be comfortable on the flight, but still look good, so what do you wear? Departure is Los Angeles-based clothing company that specializes in travel-friendly styles with cheeky slogans. "Travel-inspired clothing for jet-setters, adventurers, explorers and lovers of 'the good life'," as the brand's website boasts. A jet-setter is someone with "a serious case of Wanderlust, curiosity, need for adventure and [a] desire to be immersed into different cultures," according to the brand's motto. "It's all about the journey, not the destination," continues their mission statement. And on that note, Departure's clothing is tailor-made for all of your journeys.
Whether by plane, train, or automobile, if you're flying across the ocean or driving a couple of hours out of the city, you've got to look the part. Style doesn't have to eclipse comfort, though, and that's exactly where Departure comes in handy.
Airplane Mode Unisex Tee in White
Set the tone for you mode while you travel with this "Airplane Mode" tee. It's also available as a tank top ($48; shopdeparture.com), sweatshirt ($72; shopdeparture.com), and a hoodie($80; shopdeparture.com).
Milano Track Pant
Pair your "Airplane Mode" tee with this super comfortable style of pants.
Departure Logo Oversized Hoodie in Red
It's hard to beat an oversized hoodie when it comes to comfort – it's basically a wearable blanket.
SoHo Seamless Bike Short
Spandex biker shorts are super trendy right now, the Kardashian-Jenners are big fans of them, and they'll go really well with that oversized sweatshirt. Plus, no button or zipper to dig into your waist like even the most comfortable pair of jeans can do.
Baecation Unisex Low Armhole Muscle Tank
Kourtney Kardashian has a Baecation tank, once again proving she's the wisest of all the Kardashian siblings.
Tourist Unisex Crew Neck Sweatshirt
Why not just put it out there and be a proud tourist?
Military Camo Pant in Classic Camo
Or blend in with these baggy cargo pants that look comfortable and convenient – look at all those pockets!
Catch Flights Not Feelings Unisex Crew Neck Sweatshirt
Pretty much my life motto.
Do Not Disturb Cropped Hoodie
If you have an early flight, and you're anything like me, it's probably best to warn everybody around to: Do Not Disturb.
More Baggage Than Unisex Crew Neck Sweatshirt
This sweatshirt is semi-customizable as you can chose any three letter airport code to be printed on it and rep your hometown while you jet set around the globe.
Personalized Sweatpants
Departure also has a whole category of clothing that you can fully personalize. Create a slogan for yourself, or get matching tees for a trip with your besties. You can customize a variety of tops, sweats, and even a fancy AF bomber jacket.