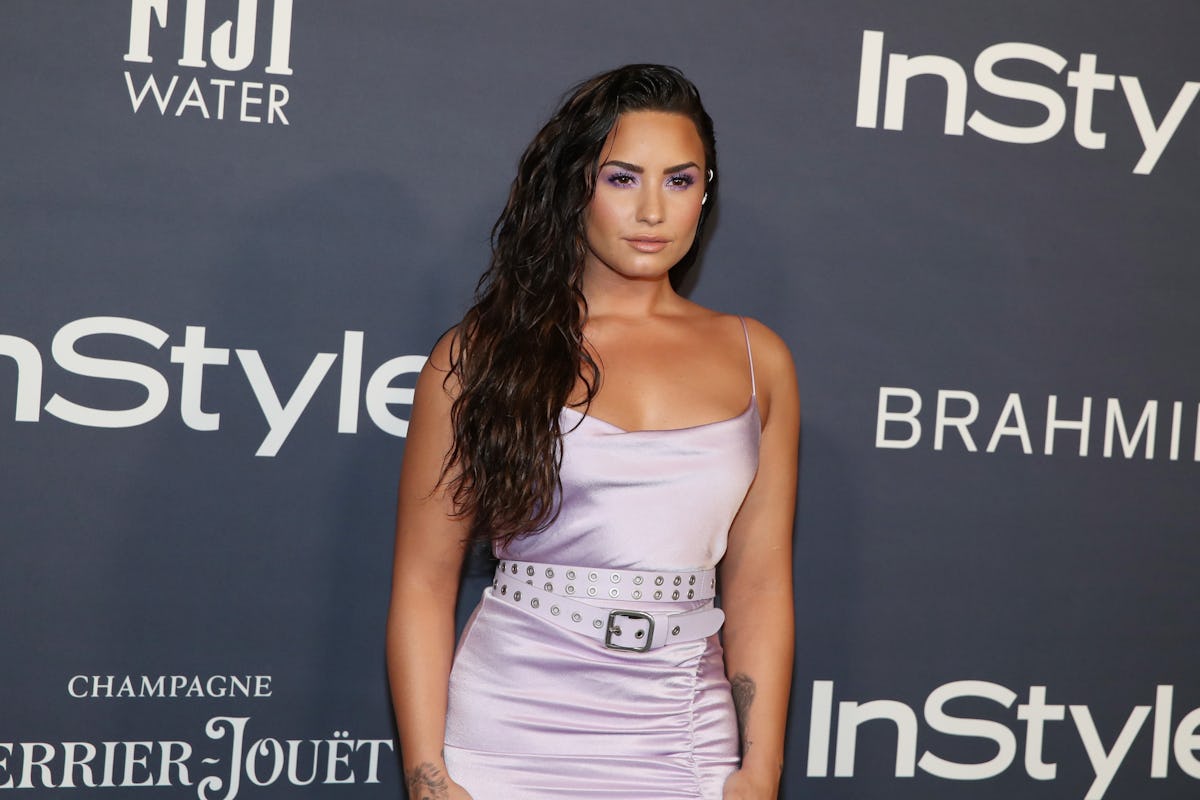 Demi Lovato Is Saying What We're All Thinking About 'Time's Person Of The Year
Jonathan Leibson/Getty Images Entertainment/Getty Images
Besides her music, Demi Lovato is known for her advocacy — and she doesn't hold back. The singer has some qualms with Donald Trump being named runner-up for TIME magazine's "Person of the Year," and her argument is pretty airtight. Demi Lovato's tweets about Time's Person of the Year are calling out the magazine's choice for its hypocrisy.
On Dec. 6, TIME announced its selection for the coveted Person of the Year slot. This year's winners were dubbed "The Silence Breakers" — a collection of women and men who have spoken out about their experiences with sexual assault and harassment. It was an incredibly topical, worthy choice that helped push forward an important conversation.
And who was the runner-up for Person of the Year? Well, that was President Donald Trump, a man who has been accused of sexual misconduct by 16 women.
Lovato wasn't about it. She quickly stepped in and voiced her outrage on Twitter. She wrote,
Time mag highlights brave women coming forward against sexual assault on the cover but names a man with sexual assault allegations against him runner up to person of the year.. Really @TIME? #hypocrites
Lovato added that she was "very disappointed" in the magazine's hypocrisy and "disrespect" towards the women featured on the cover.
And her fans were loving it.
Well, except for the ones who somehow thought she was talking about Taylor Swift.
This isn't the first time that Lovato has spoken out and flexed her advocacy muscles. The singer has been vocal about her bipolar disorder, and also continues to discuss mental illness frankly and openly. She spoke at the 2016 Democratic National Convention about America's shortcomings when it comes to mental health treatment. She's the part-owner of a rehab center. She regularly speaks to her fans about self-love.
And now, I have to give her many snaps for her response to TIME's selection of Trump. It just doesn't add up. Putting a group of men and women who have so courageously fought back against their abusers in the same category as a person who has 16 pending sexual assault allegations against him doesn't make sense. TIME is putting these victims' bold strides of bravery on the same level as Donald Trump, a person who has mostly managed to dominate the news cycle because of his erratic behavior, controversial actions, and disconcerting Twitter presence.
Let's also not forget that this man has both been accused of assaulting women and has openly bragged about assaulting women. In case you need a refresher, former Apprentice contestant Summer Zervos accused the president of kissing her without consent and putting his hand on her breast in 2007. She told PEOPLE,
He put me in an embrace and I tried to push him away. I pushed his chest to put space between us and I said 'Come on man, get real.' He repeated my words back to me, 'Get real' as he began thrusting his genitals. He tried to kiss me again and with my hand still on his chest I said 'Dude, you're trippin' right now,' attempting to make it clear that I was not interested.
Trump has denied these allegations.
And then there's the leaked 2005 Access Hollywood tape where he discussed grabbing women's genitals without their consent. You know, when he said this:
I'm automatically attracted to beautiful — I just start kissing them. It's like a magnet. Just kiss. I don't even wait. And when you're a star, they let you do it. You can do anything.
The actions he describes in the video are pretty much on par with a lot of the experiences that "The Silence Breakers" went through.
It's worth noting that TIME's Person of the Year is not necessarily meant to honor someone who is doing good, important work. In fact, Adolf Hitler was named Person of the Year in 1938... so you really know that this isn't about a person's character.
"The criterion is 'the person or persons who most affected the news and our lives, for good or ill, and embodied what was important about the year,'" Deputy Managing Editor Radhika Jones explained in a TIME Q&A about the selection process. "A lot of news is bad news and a lot of people who make bad news are very powerful people."
That definitely makes sense. What makes less sense is grouping Trump and "The Silence Breakers" in the same category. It just feels so tone deaf. Lots of applause to Lovato for being sorry not sorry, and bringing this whole issue to light.