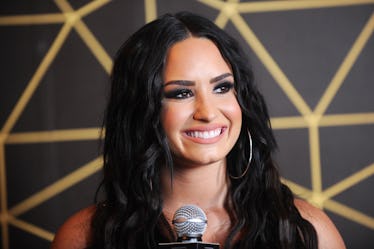 Demi Lovato Assures Fans She's "Clean & Happy" While Asking For "Time To Heal"
Brad Barket/Getty Images Entertainment/Getty Images
Demi Lovato wants you guys to know that she's doing OK. If you remember, she suffered from a near-fatal overdose over the summer, and there's basically been a cloud of uncertainty over the state of her health ever since. But on Friday, Dec. 21, the "Confident" crooner opened up about her current reality, tweeting that she's "sober" and "taking care of ME." Demi Lovato's tweets about her sobriety also make a really valid point about her recovery process in terms of how much people deserve to know about it.
Apparently, while Lovato has been recovering and getting back to the basics, there have been some wild rumors out there suggesting that she's been up to other things. Addressing those "sickening" rumors, Lovato tweeted a plea on Dec. 21 for tabloids to "stop prying and making sh** up that you know nothing about." She went on to say that her recovery process is no one's business but hers and that she "would love to set the record straight on all the rumors out there but I literally don't owe anyone anything so I'm not going to." (Right on, Demi!)
After asking for "space and time to heal," she concluded her post with some warm words toward her fans, tweeting her gratitude for their ongoing support. She wrote:
All my fans need to know is I'm working hard on myself, I'm happy and clean and I'm SO grateful for their support.
Elite Daily reached out to Lovato's representation for further comment on her tweets, but did not hear back at the time of publication.
Here's a look at her tweets in full:
While fans are clearly curious about Lovato's health with good intentions, it's clear there are others out there who aren't so well-intentioned when it comes to "reports" about her health. She shared in one tweet, "I still need space and time to heal," which is a good reminder to everyone that Lovato is still in her own recovery process, and the only thing that matters is that that she is doing what she needs to do for herself.
Lovato's comments only echo those from sources close to her, who have said that her health has been her top priority following her July 2018 hospitalization. Back in November, an insider told People that Lovato had completed 90 days in rehab and was "definitely" focused on her recovery. The source said:
Demi seems to be doing well. She looks really good and is in a great mood. She also seems happy about being out and about, but her focus is definitely still her recovery. She attends meetings and receives treatment. Her number one priority seems to be her health.
The comments came just over three months after Lovato was rushed to a Los Angeles hospital for what was thought to be an reported heroin overdose. Elite Daily reached out to Lovato's team for confirmation on the reports of an overdose and the reported hospitalization and was given this statement, which seemingly pushed back on some of those reports at the time:
Demi is awake and with her family who want to express thanks to everyone for the love, prayers and support. Some of the information being reported is incorrect and they respectfully ask for privacy and not speculation as her health and recovery is the most important thing right now.
It was certainly sad news for her fans, as Lovato (who has long suffered from substance abuse) had recently released a song titled "Sober," in which she admitted that she'd relapsed after six years of sobriety. Some of the lyrics go:
Mama, I'm so sorry I'm not sober anymore / And daddy please forgive me for the drinks spilled on the floor / And I'm sorry for the fans I lost who watched me fall again / I wanna be a role model, but I'm only human
But fans are fans, which means they'll likely be there every step of the way — good or bad, whenever Lovato feels comfortable sharing her recovery updates.
Best of luck to you, Demi. I can't wait to see where you go from here.