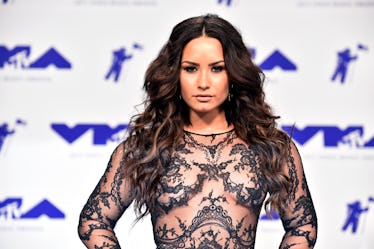 Demi Lovato's "Tell Me You Love Me" Video Is Here & It's An Actual Masterpiece
Frazer Harrison/Getty Images Entertainment/Getty Images
This is not a drill, you guys. I repeat, this is NOT A DRILL. The day has finally arrived when all of your Demi Lovato-related prayers are answered, because the "Tell Me You Love Me" video is finally here and my heart is simultaneously breaking and exploding. The video is Demi's first since she dropped "Sorry Not Sorry" back in July, so this is like, a HUGE deal for fans of the singer. But this video is so good that it was totally worth the wait.
Lovato teased us all when she shared photos of herself in a wedding dress and a photo of a "save the date" announcement on Twitter, which actually show the details of when the "Tell Me You Love Me" video was set to drop. Pretty clever, TBH. First of all, Demi in a wedding dress looks like absolute perfection, and her fake save the date looked even more beautiful than most real ones. But man, those little teasers are literally NOTHING compared to the video. Lovato went all out for it, and it will make your heart shatter.
For those of you who haven't listened to the song on repeat 300 times, the lyrics start out like this:
Oh no, here we go again
Fighting over what I said
I'm sorry, yeah I'm sorry
Bad at love, no, I'm not good at this
But I can't say I'm innocent
Not hardly, but I'm sorry
Hello, emotions, my old friend. Don't those lyrics just tear you up inside a little?
And then the chorus goes like this:
Oh, tell me you love me
I need someone on days like this, I do
On days like this
Oh, tell me you love me
I need someone
On days like this, I do
On days like this
Oh, can you hear my heart say
Ooohhhh, ooh
No, you ain't nobody 'til you got somebody
You ain't nobody 'til you got somebody
Oh, don't mind me while I wipe a single tear from my face.
This song clearly rings true for anyone who's suffered from heartbreak (AKA everyone), and the video portrays that beautifully.
At a New York City album launch, Lovato explained the meaning of the song to her fans, who mostly believe that the song was based on her six-year relationship with ex-boyfriend Wilmer Valderrama:
The first time I heard it, it really stuck with me because at the time I was going through a breakup. ... It's about the vulnerability of coming out of a very serious relationship and having a tough time with it. ... It also at the same time calls out a big misconception with the line, 'You ain't nobody 'til you got somebody,' which again comes from that vulnerability with mixed emotions.
And, while the above might be speculation about her former relationship, Lovato's documentary, Simply Complicated clearly mapped out her feelings about her breakup with Valderrama:
We connected on a level that I've never connected with anybody before. He was just my rock. My everything.
She continued:
I do have moments where it's late at night and I'm lonely and I wonder if I made the right decision, because love is a gamble. I don't know if I'll lose him for the rest of my life.
Can she seriously be any more relatable?
I love how honest and raw the video is, and think it's one of Lovato's best yet.
Lovato has always been upfront about her struggles, whether it was opening up about her eating disorder or her battles with sobriety, and I can't help but feel that she's such a genuine person who isn't afraid to show the world who the "real" her is. She deserves a standing ovation, and her newest video is a true testament to that.
All hail Queen Demi.