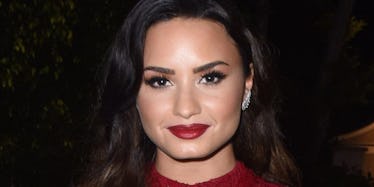 Demi Lovato Opens Up About Sobriety In New Interview: "I'm Just Grateful To Be Alive"
Vivien Killilea/Getty Images for The Brent Shapiro Foundation
Demi Lovato continues to inspire fans with her strength and dedication to being sober (five years!) as well as addressing her mental health concerns. After overcoming past struggles which she's been very open about, Demi Lovato's sobriety and health continue to be top priorities. That hasn't gone unnoticed either, as she just received an award for sobriety.
In a new interview with Entertainment Tonight, Lovato spoke about how she's "grateful to be alive," something that she doesn't take lightly. Lovato was recently honored at the Summer Spectacular to Benefit the Brent Shapiro Foundation for Drug Prevention in Beverly Hills, California.
She told ET: "It feels amazing to be honored for my sobriety just because this is something that I decided to do on my own, and it's something that I needed to do for myself and now getting awarded for it feels incredible."
In the past, Lovato has shared that this is all a work in progress, but she definitely commits to doing the work. Part of her commitment includes working out, eating healthy, and seeing a therapist twice a week.
Lovato also explained that though she took the steps toward sobriety, there are really many people that helped her along the way, notably the folks at CAST rehab centers, which she entered in 2013. That assistance was critical and she is paying it forward by becoming a part owner of the centers to help other people in need. She explained:
Sometimes I just look back and I'm just grateful to be alive. I'm grateful that CAST centers came into my life. CAST is a treatment center that I co-own with Mike Bayer and we, together, are able to help other people, which, in turn, makes me feel really great. And I'm able to look at what I've done and I do kind of like sit there and think, 'Wow, I'm so glad that I got sober and I'm able to help people.'
She also recently visited Houston, Texas, to help the victims of Hurricane Harvey, and said of the experience: "It was emotional being there, but I also had Kevin Hart and Chris Paul there, and Kevin Hart is so funny so he was the comedic relief, but I had fun. It was great working with children."
Lovato's personal life made a splash recently when a photo of her holding hands with Lauren Abedini at Disneyland made the rounds on Saturday. Is Lovato dating Abedini? The singer hasn't confirmed or denied that Abedini is her girlfriend, but the rumor mill kicked it into high gear as speculation about their relationship swirled.
In 2015, Lovato appeared to come out as bisexual during an interview on Alan Carr: Chatty Man while promoting her song "Cool for the Summer." Carr noted some of the song's racy lyrics and asked if it was about lesbianism, which Lovato answered coyly: "I am not confirming and I'm definitely not denying. All of my songs are based off of personal experiences. I don't think there's anything wrong with experimentation at all."
When Carr joked, "I experimented once and it stuck," Lovato shared, "Hey, I didn't say that it didn't stick either. I didn't say that it didn't stick." Oh Demi, keep 'em guessing.
As for Lovato's professional life, she continues to ride the wave of success, with the release of her latest song "You Don't Do It For Me Anymore." There's even a debate about whether the lyrics were about her ex-boyfriend Guilherme "Bomba" Vasconcelos or about Lovato's old self.
When a fan posted the theory: "If the song is about her old self, then it is literally 10 times even better and more impactful," Lovato commented: "Well done... it is."