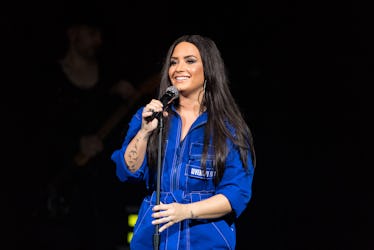 Demi Lovato Says She Left The 2016 Met Gala To Go To An AA Meeting & It's So Inspiring
Christopher Polk/Getty Images Entertainment/Getty Images
As someone who is sober, in recovery, and has a history of depression, I respect people who openly share stories about their own recovery. Not only is it brave, it's also something that's helped me in my own healing. Now, by no means do I think it's anyone's responsibility to share parts of their lives they would prefer not to, but doing so can help remove the stigma that often clings to substance abuse and mental health issues. In a recent interview with Billboard, Demi Lovato revealed she left the 2016 Met Gala for an AA meeting, a story that shines an important light on the fact that, no matter where you are, or who you are, help is never far away.
In the interview, Lovato shared her honest feelings about her experience at the 2016 Met Gala, the fashion-fueled, celebrity-filled party thrown each year for the Metropolitan Museum of Art's Costume Institute in New York. The "Sorry Not Sorry" singer told Billboard she had such a terrible experience at the event that it almost drove her to the edge of picking up a drink. Part of this, she told the outlet, had to do with what she felt was a rather fake undertone to the event, as well as its guests. She explained,
This one celebrity was a complete b*tch and was miserable to be around. It was very cliquey.
"I remember being so uncomfortable that I wanted to drink," Lovato shared with Billboard.
But instead of giving in to temptation, Lovato said she made her way out of the gala and into an Alcoholics Anonymous meeting:
I changed my clothes, but I still had my diamonds on—millions of dollars of diamonds on in an AA meeting. And I related more to the homeless people in that meeting who struggled with the same struggles that I deal with than the people at the Met Gala—fake and sucking the fashion industry's d*ck.
Of course, Lovato is no stranger to sharing the raw details of her struggles with the public. In her Billboard interview, she said it's this "brutal honesty" that "holds [her] accountable." She shared,
When I started talking about my sobriety — I can never be seen at a club getting wasted. If I relapse, it shows my fans it's OK to relapse. And I can't do that.
Still, the "Tell Me You Love Me" singer made it clear that she knows where to draw the line when it comes to talking about how she's dealt with mental health issues and substance abuse. She told Billboard,
I have boundaries. There are things I'll probably never share with the world, because I've already given so much.
But the fact that Lovato was willing to be so candid about going to an AA meeting — and, more specifically, choosing that over a celebrity event — is huge.
According to Dr. Joseph Garbely, vice president of medical services and medical director at Caron Treatment Centers, because "addiction is [often] a disease of isolation," support is crucial for recovery.
"Support groups, such as 12-step programs, can provide a safe environment for people to continually work on their recovery," Dr. Garbely tells Elite Daily. When 12-step programs are part of a comprehensive treatment strategy, he explains, they can be highly effective in helping someone maintain long-term sobriety.
As explained on Alcoholics Anonymous' official website, there are AA meetings all over the world, and in many major cities, they are available at all hours:
Alcoholics Anonymous is an international fellowship of men and women who have had a drinking problem.
It is nonprofessional, self-supporting, multiracial, apolitical, and available almost everywhere. There are no age or education requirements. Membership is open to anyone who wants to do something about his or her drinking problem.
If there's one thing to take away from this story, it's this: You truly are never alone in your struggles. Help is never far away, and perhaps more importantly, there is no shame in seeking that help. Thank you, Demi, for showing us exactly that, in the best way possible.