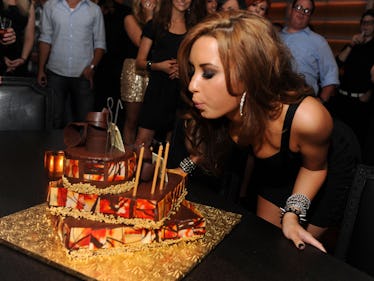 Demi Lovato's Favorite Foods Are Definitely In Your Fridge, So Eat Up
Dimitrios Kambouris/Getty Images Entertainment/Getty Images
I have worshiped the goddess that is Demi Lovato ever since the Disney Channel was christened by her drop-the-mic vocals and (kind of awkward, but still fabulous) dance moves on the Camp Rock stage. Unlike the majority of Hollywood that lives and breathes for insta-fame and any kind of press, Lovato's unapologetically doing her thang regardless of whether or not it suits our fancy. In my opinion, the actress-turned-pop-star-turned-advocate is essentially life goals, which obviously means I've been keeping tabs on Demi Lovato's favorite foods so that I, too, can slay all day like this queen.
Of course, with so much epic content to upload on her social media accounts (i.e. hangout sessions with heartthrob Nick Jonas, videos of her killing it at the gym, and countless selfies capturing just how bae this babe really is), foodtography isn't exactly on Lovato's radar. You're hard-pressed to come across a snapshot of an actual meal on the performer's feed (trust me, my finger is numb from scrolling), but Lovato is generally pretty open about her struggles with food, how she's been treating her disordered habits, and what types of food she genuinely enjoys indulging in these days.
Like any other celebrity, some of Lovato's favorite combinations are a bit strange (oatmeal and egg white pancakes come to mind), but when you're a self-made girlboss like she is, I guess you make due with what you have on the go. Curious to know what Demi Lovato eats in a day? Here are a few of her staples.