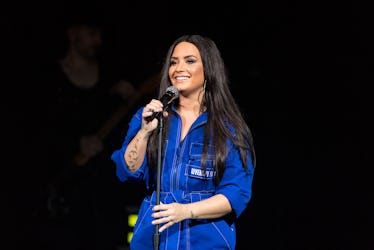 Demi Lovato Expertly Shut Down Rumors That She Surrounds Herself With A "Rotten" Team
Christopher Polk/Getty Images Entertainment/Getty Images
From a young age, I've admired people who consistently stand up for what they believe in, and Demi Lovato is — without a doubt — one of those real AF people. Whether she's avidly promoting body positivity, aggressively speaking out against bullying, or if she's defending her loved ones as much as possible, she's always more than willing to speak her mind, whenever possible. Most recently, though, Demi Lovato shut down rumors about her team being "rotten," because the "Heart Attack" singer doesn't let anyone make insensitive and impudent comments about her and her team. To be completely honest, it was straight-up amazing to see.
On Thursday, Nov. 15, @demisxlx_, a Demi Lovato fan account, posted a pretty hot take to Instagram, referring to Lovato and her team per Cosmopolitan. The post said it wasn't fair to have fired "Dani," which many people took to mean referred to Dani Vitale one Lovato's former dancers. Although, People reported that Lovato clarified her response to the fan's accusations did not refer to Vitale.
The fan's criticism of Lovato's team went on to say that "Dani" was one of the few people that cared about the singer, and that most of Lovato's inner circle doesn't actually care about her. In fact, they went as far to assume that Lovato's dancers are simply in it for the money. The caption continued on, ranting about how Lovato's team is "rotten" and that her dancers only pretend to be her friend. Just take a look at the post in full, as it read,
it was completely unfair to fire Dani, she's one of the few who really cares about demi's health and has been helping her for 3 years, she's surrounded by people who care only about her money and she does not see it.
Sounds pretty presumptuous, if you ask me.
If you haven't already taken a look at the caption of the Instagram post, it reads:
the demi team is so rotten and she does not realize it, needs a total change, mainly from dancers pretending to be friends like @d...... and others..................
Yikes. That was, um, a little bold.
Well, Lovato clapped back at this "fan" like the strong boss lady she is. According to an IG account that tracks celeb's Instagram comments, @commentsbycelebs, Lovato said,
You have no idea what you're talking about.
Then, she followed it up with, "True friends don't do interviews about you when you OD." Elite Daily reached out Lovato's representation for further comment on her response and who she was referring to, but did not hear back at the time of publication. It appears that Lovato wasn't going to let a fan account — who TBH wasn't acting much like a fan — defame her or her team. That was absolutely not about to happen on her watch.
This point of contention in the post where Lovato responded about a "friend" doing interviews about her after Lovato overdosed refers Lovato's reported drug overdose back in July 2018, which was reported by TMZ. Lovato shared her thoughts about the incident in a now-deleted post on Aug. 5, 2018. In it, she shared,
I want to thank my family, my team, and the staff at Cedars-Sinai who have been by side this entire time. Without them I wouldn't be here writing this letter to all of you.
Cut to Nov. 15, and this fan account implied that Lovato's "team" is not there for her and that furthermore, "Dani" had been wrongly fired. Again, Lovato made it clear that he response about this "friend" giving interviews wasn't about Vitale. People reported that Lovato could have been referring to "her former trainer Danielle Martin." Martin apparently spoke with Radar Online about "severing ties" with Lovato, following Martin's speaking out following Lovato's overdose, per Martin's interview with the publication. Elite Daily reached out to Lovato's representation for comment on whether Lovato was referring to Martin in her response on for comment on Martin's claims to Radar that she "lost [her] job for speaking up for [Lovato]," but did not hear back at the time of publication.
Based on Lovato's reply, it seems as though this fan is highly under-informed about the goings on in Lovato's day-to-day life. Clearly, Lovato knows her own situation better than anyone, and she doesn't want a fan making up rumors about it. Case closed — mic drop. Real talk: it was pretty out of line for this fan account to speak out about Lovato's situation, especially as someone who is completely uninvolved in the situation. In my personal opinion, it's incredibly important that Lovato keeps her loved ones close and toxic people out.
At this point in time, Demi is simply trying to work on herself. TBH, it's good to see Lovato sticking up for herself and her team.