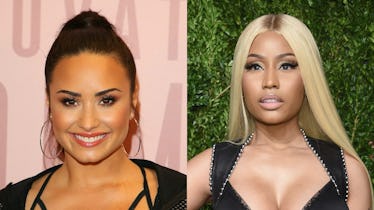 Demi Lovato Might Have Thrown Shade At Nicki Minaj So Looks Like This Feud Is On
Jean Baptiste Lacroix/Getty Images Entertainment/Getty Images & Dimitrios Kambouris/Getty Images Entertainment/Getty Images
Well, judging from this reawakened feud, it looks like it's officially shade season. While this latest drama might be traced all the way back to 2016, recent comments are hinting that Demi Lovato and Nicki Minaj might have beef from the Met Gala. Clearly drama has no expiration date.
While most celebrities were having a grand ol' time at New York's most fashionable affair Back in 2016, Demi Lovato had quite a different experience. During an interview with Billboard on March 8, Lovato revealed that a run in with a fellow celebrity that year made her Met Gala experience "terrible."
"This one celebrity was a complete bitch and was miserable to be around. It was very cliquey," Lovato told Billboard. "I remember being so uncomfortable that I wanted to drink."
Like a phoenix rising from the ashes, it looks like Lovato is trying to make old drama relevant again. Before you start speculating who this mysterious woman Lovato is referring to, let me explain why Nicki Minaj is the number one suspect. Lovato, along with Minaj, attended the 2016 Met Gala as guests of designer Jeremy Scott of Moschino. While the trio seemed fine from an outside perspective, it was social media that had us wondering what exactly went down that night.
First, Minaj posted a photo (which has since been removed) of her, Lovato, and Scott attending the Met Gala red carpet. Don't get me wrong, it was a lovely photo. However, Minaj only tagged Scott, and left Demi completely unacknowledged in the Instagram caption.
Don't fret Lovato fans, Demi got her revenge through the social media channel as well. On May 3, 2016 Lovato posted a pretty awkward photo of her, Minaj, and Scott from the event, which showed Minaj and Scott posing for a photo while Lovato stood awkwardly in the background. The best part? The side-eye Minaj was throwing Demi that was captured on camera. As if the photo wasn't enough, Lovato followed it up with a very truthful caption.
She wrote,
This picture pretty much summed up my first and probably last met #cool #sof*ckingawkward #notforme#sweatpants #forensicfiles #whatsgood p.s. some of y'all need to learn how to take a joke.. I'm obviously laughing at the fact that 1. I look incredibly awkward and 2. That the shade being thrown in this picture actually gives me life.
That post might scream cat fight, but there are other photos that show the trio looking civil — if not terribly friendly.
However, Lovato didn't stop at Instagram. She also took to Snapchat the same day to share a cryptic photo and caption that said "when you aren't mentioned in the post but didn't do shit to the person..."
Curious and curiouser.
Setting the girl drama aside, Lovato also revealed that the event was so stressfull she considered breaking her sobriety of six years.
While speaking with Billboard, Lovato told the publication that she left the Met Gala early at 10 p.m ET and headed straight to an Alcoholics Anonymous meeting.
She said,
I changed my clothes, but I still had my diamonds on, millions of dollars of diamonds on in an AA meeting. And I related more to the homeless people in that meeting who struggled with the same struggles that I deal with than the people at the Met Gala, fake and sucking the fashion industry's d*ck.
Oh. Well then.
I for one live for Lovato's uncensored commentary of the Hollywood and fashion industry. I mean, isn't it what most people are thinking anyway? However, it's really her openness and bravery while discussing her battle with sobriety and bipolar disorder diagnosis that's a testament to her true strength.
On July 31, 2017 Lovato spoke with iHeartRadio's Label Defiers with ZICO Coconut Water podcast about breaking free of being defined by her mental health and instead choosing to speak up for what she sees as important.
She said,
I think it's important to speak up about the things that you believe in because your voice will be heard no matter what position you're in. And I just happen to be in a position where more people will hear my voice than they would have 10, 15 years ago. I use my voice to do more than just sing and I use it to speak up about mental health because that's something I'm very passionate about. I'd say the whole world knows the real me because there's nothing that I hide.
Good for you, Demi. I hope you never stop speaking up.