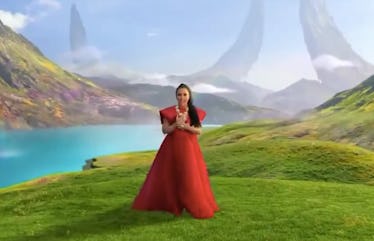 Demi Lovato & DJ Khaled's "I Believe" Music Video For 'A Wrinkle In Time' Looks Magical
YouTube
PLEASE tell me that you're just as excited as I am to see the movie A Wrinkle In Time. Based on the first novel in Madeleine L'Engle's Time Quintet series, the movie features somewhat well-known movie stars like Oprah Winfrey, Reese Witherspoon, Chris Pine, and Mindy Kaling. Oh, did I say somewhat well-known? JK, I meant movie legends. And as we all know, legendary movies ALWAYS have a legendary soundtrack. But you guys, Demi Lovato and DJ Khaled's "I Believe" music video for A Wrinkle In Time looks nothing short of absolute magic, and now every fiber of my being is even more amped than I was before.
According to Complex, Wrinkle will "include Sade's first song in seven years, 'Flower of the Universe,' as well as original music from huge stars like Kehlani, Sia, Chloe x Halle," and, as we already know, Demi Lovato and DJ Khaled. In fact, the world got a sneak peek of Lovato and Dj Khaled's "I Believe" music video when Good Morning America previewed a small clip on their show on the morning of March 7.
Though it's less than a minute long, it gives us a pretty good idea of how the rest of the video will be, and, spoiler alert: IT'S BEYOND AMAZING.
We see our queen, Demi Lovato, absolutely crushing it in a stunning red dress, surrounded by (very flexible) dancers covered in jungle-like attire, singing in what seems to be the very backdrop of A Wrinkle In Time's far-off distant place:
Do you see her in that fairytale garden? Do you see those dazzling twinkle lights? I honestly can't be more excited for the full video now that I've seen this clip.
The A Wrinkle In Time soundtrack will be released on March 9, the same day the movie will be available to see in theaters. For those who are impatient (aka me), you thankfully won't need to wait too long for the album.
It seems that Demi Lovato and DJ Khaled are a pair that have been pretty much killing it lately. Perhaps that's because DJ Khaled has joined Demi on her Tell Me You Love Me World Tour, or perhaps it's because they are just two amazing humans with a huge amount of musical talent. You know, either/or.
And, when Demi Lovato dropped her sixth studio album, Tell Me You Love Me, on Sept. 29, 2017, I just knew we'd be expecting big things from the pop star.
Just a day before her album launched, a small group got the chance to meet with Lovato at a private event in New York City and speak with her about her newest music. "What inspired me to be so open on this album was, I don't know, I've kind of been through a lot over this past year and a half since I released my last album," Lovato said, adding that she "wanted to be honest because my fans deserve that."
As if we didn't love her enough already, she goes and says sweet things like that about her fans. Demi, you are the loveliest.
She also recently spoke about navigating through a new sound when it came to her music after finishing up touring for her 2015 album, Confident. In an interview with Noisey, she talked about her previous tours, and how they were filled with fun pop music, but lacked the soul she was looking for in her work. She said:
When I went on tour and I sang all pop stuff, it just wasn't fun for me. It wasn't soulful; I wasn't getting into the songs. It was just kind of going through the motions. And when I came off tour, I was like, 'You know what, I want to write music that's going to be fun for me to sing every night.'
I think it's safe to say that the song "I Believe" is filled with the kind of "soul" in her music that she was passionately searching for. Demi, you absolutely nailed it.
So now if you'll excuse me, I'm just going to go ahead and replay the "I Believe" video snippet about 100 more times.