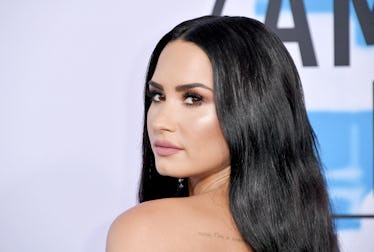 Demi Lovato Walked The AMAs Red Carpet With A Very Special Date & Fans Are Loving It
Neilson Barnard/Getty Images Entertainment/Getty Images
Demi Lovato is truly a champion among champions tonight. She attended the American Music Awards on Nov. 19 and brought a very, very notable date with her. Lovato chose to bring a recently elected public servant with her to hit the red carpet — Danica Roem, Virginia's first openly transgender legislator. And even before the awards show has started, Demi Lovato and Danica Roem's AMAs date is already an iconic moment.
The songstress has been a notable LGBTQ+ activist for quite some time now, and she decided to take it up a notch by celebrating the victory of Danica Roem, who was elected to Virginia's House of Delegates on Nov. 7, the first openly transgender woman to be elected in the state. Demi Lovato decided to celebrate her victory by bringing her along to the AMAs this year. And boy, did they make a splash.
Lovato wore an amazing semi-sheer strapless black gown and rocked the Elvira look with long black locks to match. Roem also followed suit with her outfit, sporting a long black gown with her long dark brown hair styled neatly in a half-up half-down do. And the photo of the two of them, posing together on the red carpet, is just perfect.
Demi Lovato performed her hit song "Sorry Not Sorry" on the awards show, which was a part of her decision to have Danica Roem accompany her for the AMAs. The song was written to put down her haters, namely those who have body-shamed Lovato throughout her career. But it's also is an anthem for anyone who's felt hate at any capacity. So naturally, this song has been embraced by members of the LGBTQ community. And it feels fitting that she paired her performance with a date like Roem, who is essentially the embodiment of the song's lyrics.
The November 2017 election cycle was a critical one for Democrats, who following a Trump inauguration and complete loss of the U.S. House of Representatives and the U.S. Senate, needed a win in Washington. And they sure did win, turning over governor's races in Virginia and New Jersey. But it was a victory for the LGBTQ+ community too, as besides Roem, a number of other LGBTQ+ candidates won their elections on Nov. 7, including Andrea Jenkins, who became the first openly trans woman of color elected to the Minneapolis City Council. And Demi Lovato decided to pay tribute to these monumental occasions by inviting Roem to accompany her on the AMAs red carpet.
In a statement, GLAAD President and CEO Sarah Kate Ellis said,
Demi Lovato and Danica Roem are two strong and inspirational women who embody the need for all Americans to stand together united and to take action today against any form of discrimination and oppression... Danica Roem is a trailblazer whose win in Virginia showcased both how young people and marginalized communities can impact voting results and how every American deserves an opportunity to work hard and achieve their dreams. Demi Lovato continues her legacy of raising the bar for entertaining audiences around the world and for spotlighting social issues that need the most attention.
Demi Lovato has been a vocal activist for transgender rights for a while now. The singer took a stand against North Carolina's now infamous bathroom law last year during the Billboard Music Awards. She wore a T-shirt during her performance on the show while wearing "a t-shirt featuring an inclusive bathroom symbol," per Billboard.
She also wrote a letter to the LGBTQ community during pride month this year, which was posted to Billboard's website. She wrote in the touching letter to the community that has supported her career,
This is a community who are so incredibly close to my heart. Every single interaction I've ever had with the LGBTQ community has always been filled with pure love, enthusiasm, and passion for life. I know there are millions of people out there who feel exactly the same way as I do.
Demi Lovato and Danica Roem's red carpet moment will definitely not be forgotten by the LGBTQ community anytime soon. Her commitment to uplift the community is truly awe-inspiring and something everyone should embrace in their own lives.