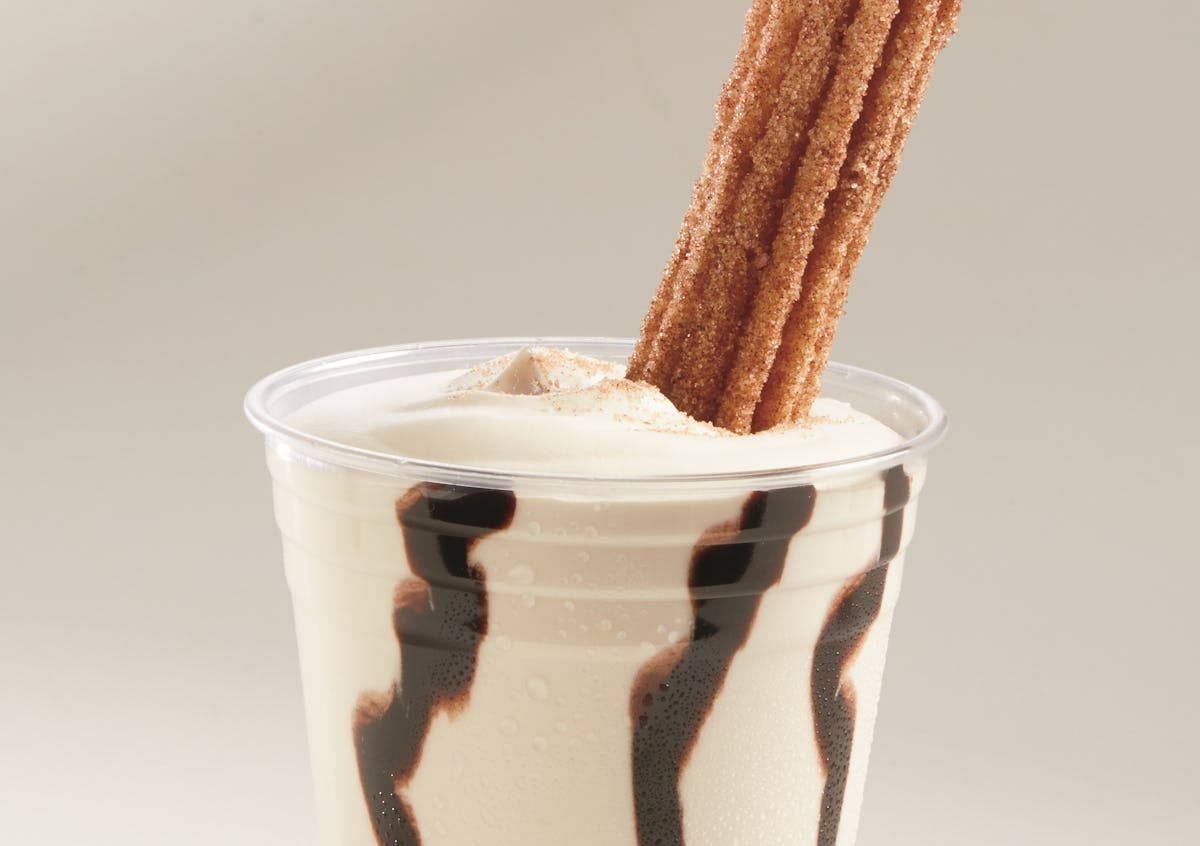 This Chocolate-Drizzled Vanilla Shake Comes With A Churro For A Spoon & I Need It
Del Taco
Using a spoon is so last year, so naturally, Del Taco is saying so long to the plastic utensil and ushering in a new way to eat: with a churro spoon. Now, when you order a Churro Dipper Shake from the fast-food Mexican restaurant, you will still get a spoon — but you'll be able to eat it. That's right, you heard it here first. No milkshake is complete without an edible churro spoon, and I need to it right now. Here is how you can feast on Del Taco's Churro Dipper Shake.
The delicious dessert will be available for public consumption on Thursday, May 24. So save the date, clear your calendar, do whatever you need to in order to prepare for the release of this one-of-a-kind tasty shake and its edible "spoon." The Churro Dipper Shake is a mix of vanilla ice cream blended down into creamy perfection and drizzled with chocolate inside. But wait, as you already know, the goodness does not stop there. To finish it off, a hot-and-crispy, soft and pillowy churro spoon is placed inside of the sweet treat. It's basically a dessert that keeps on giving.
"For as long as I can remember, we've been forced to choose between a straw and a spoon to enjoy our favorite shakes," Barry Westrum, Del Taco's Chief Marketing Officer, tells Elite Daily. "We wanted to change that."
Westrum attributes the rise of food pictures on social media and Del Taco's fan base as the ingredients when it came to creating this undeniably delicious dessert.
"There was definitely some Instagram inspiration from our fans when we came up with this one," he says.
Ready to get down to business with this revolutionary vanilla and chocolate shake, and more importantly, that warm, sugary churro spoon? You'll need to find your nearest Del Taco. But with more than 560 restaurants across the country, you should have no trouble locating the Del Taco closest to you.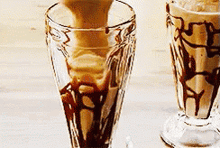 I don't now about you, but this frozen goody is taking me back to my days as a '90s kid. It kind of reminds me of those little ice cream cups I used to get at during my elementary school lunch or during a class function. You know, the small plastic bowls that you had to eat with a wooden spoon? Hello, nostalgia — except the Churro Dipper Shake experience is the grandaddy of my adolescent ice cream school-day soirees.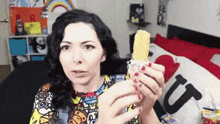 The Churro Dipper Shake isn't just for dessert, though. With the temperatures rising and summer just weeks away, you can cool down with this ice cream treat any time of the day. Many Del Taco locations are open 24 hours, so really, there is no wrong time to order up a Churro Dipper Shake.
Hungry for more churros, but don't think you can handle any more ice cream? Might I suggest ordering the Caramel Cremé Churros from Del Taco's menu to further satisfy your cravings? Or, you could just order them anyway (to supplement the shake, of course).
This is one of the most ingenious food trends I've yet to see — and I hope other restaurants will follow suit. Also, in addition to being totally tasty, using food as utensils also cuts back on the amount of plastic waste that's generated on a daily basis. Now, you can help the environment and appease your tastebuds all at the same time. It's a pretty fair trade, if you ask me.
The Churro Dipper Shake is only available through the end of summer, so get it while you still can. BRB while I order one; it's totally Insta-worthy.