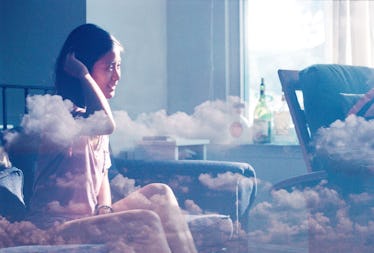 These 3 Zodiac Signs Will Have The Worst Week, But Life Gets Easier
The time has come for the dreaded weekly announcement: Which zodiac signs are in for a wild ride? Before you start feeling hopeless about your prospects, let me just say that things are finally starting to look up. Why? Well, Mercury — planet of communication and cognitive function — will officially station direct on Dec. 6. While this doesn't mean we're completely in the clear of the planetary brain fog (because the shadow of this retrograde will last until Dec. 24), it sure does alleviate most of the pressure. Keep this in mind when I say that as of December 3, 2018, this will be the worst week for these zodiac signs: Gemini, Virgo, and Pisces. As always, the confusion will leave just as deep of a mark on you if any of these signs are your rising sign.
And that's not the only retrograde that is finally coming to completion: Chiron — planet of our deepest healing — is stationing direct on Dec. 9 after being in a backwards tailspin since Jul. 5. There's no doubt that the past few months have been immensely dark and emotionally revealing. Whether you realize it or not, you've been slowly moving on from your pain and transforming it into strength.
Gemini: Let's Just Prioritize A Few More Things
You're in the home stretch of Mercury retrograde! Just a few more days left of your ruling planet being majorly out of order. Once it stations direct in your sixth house of work and health and fills it with Scorpio's strategic power, it'll be so much easier to get back to the grind.
It's a great time to set a plan for success in motion. Detox your mind, body, and soul through healthy eating, fitness regimes, or whatever you need in order to operate optimally. Revamp your daily routine, become more efficient with your time, and feel free to start some new projects that you can dedicate yourself to. With a Sagittarius new moon lighting up your partnership sector, it's also a beautiful time to open your heart to intimacy and trust.
Virgo: Here's Your Chance To Organize Your Life
As soon as Mercury stations direct in your third house of communication, the cosmos guarantee you'll start thinking so much more efficiently. With Scorpio's laser focus and deadly aim, your ruling planet will soon be functioning with unapologetic intensity.
However, Mercury isn't out of retrograde yet, so stay tuned for a few final lessons in processing information clearly. You're learning how to speak with integrity, analyze things more intelligently, and keep things more organized. A new moon in Sagittarius will also bring attention to your fourth house of home and family, so chances are, these lessons will apply to you where they really count, in the most intimate part of life. The disarray is almost over. So what can you learn from it in the meantime?
Pisces: Try Coming To Terms With Some Serious Healing
There's no way anyone can deny that you have been going through it, Pisces. For nearly five months, chiron — the wounded healer — has been backpedaling through an emotionally introspective retrograde in your first house of the self. There's no doubt this has caused you to reflect on core aspects of your identity, the trauma that has become a part of you, and the way you present yourself to the universe. Chances are, you've been healing from some seriously heavy, long-term pain, but luckily, the healing is slowly coming to a promising conclusion.
Think about where you were five months ago. Can't you already see a stark difference? I bet you haven't even given yourself credit for all that you've been through. Thank yourself for remaining so resilient in the face of life.