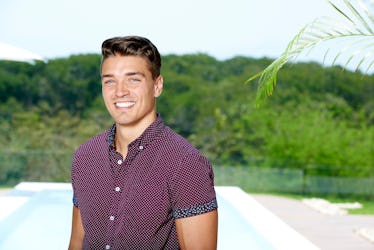 Dean Just Revealed If He Would Ever Be 'The Bachelor' & I'm Honestly Surprised
ABC
Dean Unglert made his Bachelor-verse debut on Rachel Lindsay's season of The Bachelorette in 2017, coming in fourth place after getting eliminated after the hometown dates. Over the past year, he's continued to keep that reality train chugging — Unglert went on to appear on summer's Bachelor in Paradise and then sought out romance and athletic glory on Bachelor Winter Games. But it sounds like he's slowing things down when it comes to looking for love on national TV. Sorry, Deanie Baby devotees. It looks like Dean Unglert won't be The Bachelor next time around. He's got some more soul-searching to do before he can jump back into the (public) dating game.
It will probably be a while until ABC announces who the next Bachelor will be (Becca's Bachelorette season hasn't even begun airing yet), but don't expect to see Dean as the one handing out the roses come Season 23. When asked if he would consider the role on PeopleTV's Chatter live-stream on April 25, he admitted that he's just not in a place to deal with the drama and tension that surrounds the job. "I need to figure myself out a lot more before I'm ready to be in that position. So as of now, absolutely not," Dean confirmed.
When reminded that Season 22's Bachelor Arie took a long hiatus from the franchise, Dean elaborated on his personal feelings regarding returning in the distant future. Why not go back for more? Allow him to explain:
Don't get me wrong, the franchise has offered me so many amazing things. I've met a lot of incredible people, the cast members, the producers, and all that kind of stuff. But there's just something to be said about, I guess, kind of living in that experience and going through it all again. It's very stressful. You know, I'm friends with Nick and Ben and they both talk about how stressful the environment is throughout the course of the show.
And if you're thinking another stint on Bachelor in Paradise is in the cards for Dean, think again. The steamy summertime spinoff seems like it's less of a pressure-cooking situation, but that doesn't mean Dean wants to dive back into its potentially rocky waters.
"I think that you'll have to tune into Paradise this year, but given my track record down in Mexico, I'm going to say it's probably a long shot," Deanie clarified on his Paradise odds. "I think that you hit a certain threshold where it's no longer acceptable to go on these types of shows. And at least for now, I have a lot of work to do on myself and I have a lot of growth to do within myself until I'm ready to put myself out there like that."
I don't blame Dean for taking time out for himself away from the cameras at this stage in his personal life. The 27-year-old, who referred to his current dating activity as "not-existent," just went through a breakup that received a lot of Bachelor Nation attention. Dean happened to be successful in the relationship arena via Winter Games when he struck up a romance with former Bachelor contestant Lesley Murphy. The pair became a standout couple on February's spinoff, even making a PDA (Public Display of Apartment Sharing) when Dean got down on one knee on the "World Tell All" special to ask Lesley to move in with him. Sadly, the adorable duo announced they had called it quits in April 2017.
"Love takes work. Love is compromise. Love is earned. I still have a lot of work to do on myself, a lot to prove to myself, before I'm ready for something like that," Dean captioned an Instagram post following the split.
Noted. You do you, Dean! I'm sure Bachelor Nation will be pumped to welcome you back if you're ever down to give the show another go.