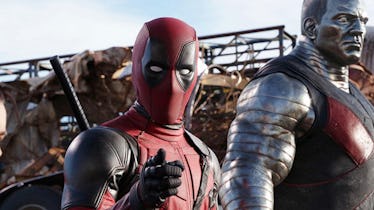 'Deadpool 2' Ratings Are In & Fans Are Clearly Obsessed
20th Century FOX
Deadpool 2 dominated the weekend box office ahead of Memorial Day Weekend. The film is expected to come in at Number 2 next weekend in the wake of Star Wars' return to the summer box office derby with Solo: A Star Wars Story's release on Friday, May 25th. But with one weekend all to itself to finally knock Avengers: Infinity War down a peg, the R-Rated film made the most of the opportunity. The good news continues for the film too: The Deadpool 2 ratings are in, and fans loved what they saw.
When the reviews from the Top Critics came in prior to Deadpool 2's opening, the film scored a decently fresh rating of 67 percent. But will all reviews now present, accounted for, and aggregated, the Tomatometer has jumped nearly 20 points to 83 percent. That's enough to get the all-important halo around their tomato and be declared Certified Fresh.
The audience meter also gives it a fresh rating with 86 percent liking it. This gives the film a great base and a few more days of clear theaters and maybe even a few holiday takers heading out ahead of the first weekend of summer who will pop in and catch the film ahead of Solo's oncoming storm.
As for box office domination, according to Box Office Mojo, Deadpool 2 is now the third comic book movie to dominate the box office this year not only domestically, but also overseas.
In domestic box office numbers, the second installment fell slightly from the original film's opening back in February of 2016. The first Deadpool has been estimated to bring in $55 million at the box office, and then shocked everyone by landing a $132 million opening over President's Day weekend, a record it held until Black Panther came along a few months ago. Deadpool 2 didn't quite reach the same heights, topping off at $125 million. But it's still only one of three films to open this year which cracked $100 Million plus on opening weekend, putting it in the same rarefied air as the MCU's Avengers: Infinity War and Black Panther. No wonder Brad Pitt said yes to a cameo.
Internationally, is where the really impressive numbers begin. Let The Hollywood Reporter explain:
Over the May 18-20 weekend, Deadpool 2 debuted to $301 million globally, joining the unprecedented domination that superhero pics are enjoying at the 2018 worldwide box office. Put another way, the sequel — returning Ryan Reynolds as the sassy, irreverent Merc with the Mouth — has already outgrossed the entire lifetime runs of such 2018 titles as Pacific Rim Uprising ($288.5 million) and Tomb Raider ($273.2 million)... Revenue to date for Avengers: Infinity War, Black Panther and Deadpool 2 account for 31 percent of all 2018 domestic box-office revenue, and 57 percent of revenue generated worldwide by the top 10 Hollywood titles. That's an unheard of share.
The interesting question is what happens next weekend when Infinity War is still part of the box office conversation, but Deadpool 2 finds itself squeezed down from the top slot by the 800-pound gorilla known as Star Wars. Solo: A Star Wars Story is currently tracking to pull in as much as $170 million over the four day release weekend, which doesn't leave a lot of oxygen left for it's Disney MCU rival or the 20th Century FOX upstart.
Can Deadpool 2 force enough audience share space to stay in the Number 2 slot, or will it, like many non-MCU comic book films, find the second weekend is when the floor drops out, and plummet down to third place behind Avengers: Infinity War? Let's hope Cable is right and dubstep really never dies.