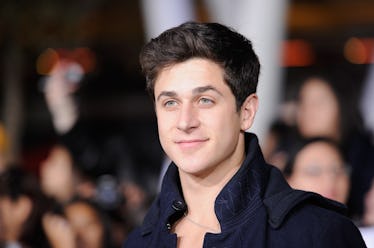 David Henrie From 'Wizards Of Waverly Place' Is Having A Baby, So You're Officially Old
Frazer Harrison/Getty Images Entertainment/Getty Images
Are you ready to finally start feeling your age? Well, here's one for you: David Henrie from Wizards of Waverly Place is having a baby with his wife Maria Cahill. The actor, who's famous for his role of Justin Russo on the Disney Channel classic, is now 29 years old and he took to Instagram to announce the exciting news. As you can imagine, his fans and followers were going wild with pure delight.
In an Instagram Story, Henrie shared his sentiments on the next phase of his life in a moving, heartfelt message.
"After getting married my life started to take on a meaning and importance that's indescribable. I'd never felt before and made me such a better person," Henrie wrote in a caption. "I cannot wait to see what being a poppa brings I cannot wait!"
The dad-to-be is clearly very happy that he's going to bring a little one into the world. And he should be! It's a huge, life-changing thing to become a parent. But Henrie and his wife seem equally excited and ready to take on all the challenges of parenthood together.
His Instagram Story is one of many that teases a gender reveal party. In some, Henrie and Cahill can be seen holding pink and blue balloons. And in a video post, Henrie revealed the moment he and his wife learned they were having a girl. With the sweet video, he added an equally endearing caption:
ITS A GIRL ITS A GIRL ITS A GIRL. Im a Poppa!!!!!!! Im so overwhelmed with joy I had to share this with you guys. I'm already singing "I Loved Her First". That reminds me. Where's my shotgun? I don't have a shotgun. Someone get me a shotgun! I can't wait to sit her down on a couch and tell her a 9 season story of How I Met Your Mother 😂😂😂 #baby #itsagirl #shotgun #poppa #dad
Take a look at their sweet gender reveal video:
Henrie's fans were ecstatic over the news.
"Congratss!! I can't believe it going to be a dad it feels just like yesterday when I was watching you in Wizards of Waverly Place," one fan wrote in the comments.
Another person seemed to be feeling their age. "God,Its so crazy my childhood heros are having kids," they said.
They grow up so fast, don't they? But Henrie seems supremely happy now that he's married and has a kid on the way.
Henrie married Cahill back in April 2017 after almost three years of dating. At the time, Henrie spoke with E! News about the special bond he shares with his wife.
"I knew Maria was special from the moment I saw her. Now, almost three years later, it's almost surreal that we're finally getting married," he said. "We're so blessed to be surrounded by our family and friends to celebrate this special day and I can't wait to start this next adventure with my best friend and soulmate."
Henrie and Cahill are obviously connected on a soul level and now that they're having a child, I'm sure their bond is even stronger. Now, the only question is: Will David's daughter have magic powers? Oh, right... Wizards was just a TV show. (It was real to me, OK?!)