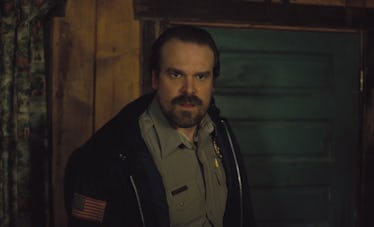 David Harbour Confirmed 'Stranger Things' Season 3 Has Wrapped With A Spoiler Photo
Netflix
One of the biggest mysteries for TV lovers right now is what the third season of Stranger Things will be about, and now police chief Jim Hopper himself is dropping some clues. David Harbour took to Instagram to confirm that the upcoming season of Stranger Things has officially completed filming, and to celebrate, he threw out some cryptic spoilers about the new season. So, what can we learn from David Harbour's Stranger Things Season 3 wrap photo? Let's see if we can puzzle out any new information about the third season of Netflix's '80s sci-fi drama.
Over the weekend, David Harbour posted a shot of his face in which he is sporting a thicker than usual mustache and a downgrade from Hopper's usual beard to some light stubble. He is also wearing a seemingly important blue cat for a business called Gary's Plumbing & Heating, which is based in Stranger Things' town of Hawkins, Indiana. In his caption, Harbour confirmed that he has concluded filming on Season 3 of Stranger Things, and that parts of this photo are actually spoilers for the new season. Read the cryptic message that Harbour wrote, and then we can try to figure it out:
Wrapped. Everyone say 'goodbye mustache.' If you need any info on what's good in Hawkins while I'm away, give Gary a call. He can't keep his damn mouth shut. #spoilerswithoutcontext #awfullogos #facecaterpillar #bestjobever #fletch #speilbergeatyourheartout
The most obvious detail is that there will be a new character named Gary, who owns a plumbing and heating business that has been in Hawkins since 1972. And apparently, Gary is known for spilling secrets, which seems like it will be a major part of this new season.
The other big reveal in David Harbour's post is one of the movies that Stranger Things Season 3 will pay tribute to. The show's first two seasons were famous for their multiple homages to '80s classics interwoven into their storylines, and fans have been trying to figure out which movies would influence the story of Season 3. Looking at David Harbour's hashtags, it sounds like the 1985 action-comedy Fletch will be a big influence on Jim Hopper's storyline this season.
Before now, David Harbour has already told fans to look at movies that came out in 1985 (the year that Season 3 is set in) for some clues about the new season. Along with his new hashtag, this basically confirms Fletch will be an influence on the season. Fletch is a movie in which a reporter goes undercover after a terminally ill man asks him to murder him, and discovers that there is a whole conspiracy behind the request. Since undercover work is such a central part of Fletch, maybe Jim Hopper is simply posing as a plumber to get the scoop on this mysterious Gary in Stranger Things Season 3.
Currently, there is no set premiere date for Season 3 of Stranger Things, but some fans are expecting the new season to drop on Netflix around next summer.