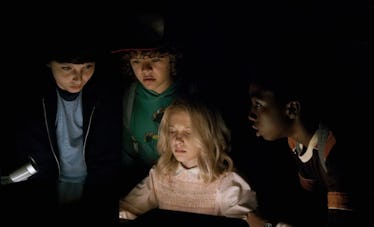 'Stranger Things' Season 1 Almost Ended With This Main Character Dying
Netflix
Stranger Things was almost a totally different show from what fans know it to be now. Before co-creators Matt and Ross Duffer knew whether or not their '80s sci-fi series would get a second season, they had actually planned to kill off some of the show's most important characters. As hard as it is to imagine, Eleven was supposed to die in Stranger Things Season 1, the showrunners reveal in a new behind-the-scenes book. And Eleven was not the only character whole almost got axed.
In a newly published behind-the-scenes companion book to the series, called Stranger Things: Worlds Turned Upside Down, the Duffer Brothers reveal how their original plan for Stranger Things totally shifted along the way. Most shockingly, as revealed via NME, Ross Duffer shared that Eleven was meant to die in the first season finale:
Eleven was going to sacrifice herself to save the day. That was always the end game.
As fans will recall, Season 1 ended with Eleven fighting against the Demogorgon, disintegrating it and then mysteriously vanishing. That was originally meant to be Eleven's death scene, but the Duffer Brothers decided to keep Eleven alive after Netflix picked up the series for a second season:
But once we realised that the show was potentially going to go on longer than one season, we needed to leave it more up in the air, because deep down we knew the show just wouldn't really work without Eleven. And at that point, we knew how special Millie was. If there was going to be more Stranger Things, Eleven had to come back.
And Eleven was not the only fan-favorite character who was originally meant to bite the dust in Season 1. According to the new book, the Duffers were also planning on Steve Harrington dying in the show's first season, but that changed thanks to the talents of actor Joe Keery. The Duffers decided to keep Steve around, and it turned out to definitely be the correct decision because the former bully has now become one of the most fan-beloved characters on Stranger Things.
Of course, Stranger Things did kill off a character in its first season, and that led to a whole lot of fan outrage. Remember the #JusticeForBarb hashtag? Neither the Duffer Brother nor actress Shannon Purser predicted that viewers would latch on to her minor character's death so ferociously, but it caused the Duffers to refocus Season 2 a bit to go into Barb's death more and launched Purser into unexpected stardom. Now imagine if Eleven and Steve also dies in Season 1 — the fans would have gone even wilder!
The Duffers also said that they were originally going to kill of Sean Astin's Season 2 character Bob Newby after just four episodes, but Astin proved so likable that they kept him alive until the eighth episode and gave him a heroic death to boot.
Season 3 of Stranger Things is currently in production, with a promo clip teasing that the new season will revolve around a new shopping mall in Hawkins and may premiere around the summer of 2019.