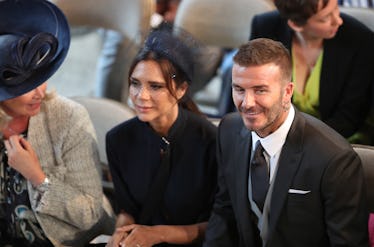 David Beckham Said His Marriage To Victoria Is "Complicated," Which I Didn't Want To Hear
WPA Pool/Getty Images Entertainment/Getty Images
Rumors have been swirling for months now that the couple affectionately known as Posh and Becks is headed for divorce. And, like, how dare you, rumor mill! Victoria and David Beckham have been married for 19 whole years and have four kids together, and that's a major accomplishment in my book. Sure, the retired soccer star and former Spice Girl's relationship is super high profile, so all the split speculation isn't completely surprising. But David Beckham's comments about his "complicated" marriage to Victoria Beckham are freaking me out, even though they are actually completely harmless and so relatable to anyone who's been hitched for a while.
Before we get into all that, let's rewind to June, when the Beckhams were forced to deny that they were headed for Splitsville, after rumors that David was cheating on Victoria — with daughter Harper's teacher — reached fever pitch on Twitter. Some of the gossip even said the teacher was reportedly pregnant with David's baby. So much drama! Elite Daily reached out to David and Victoria's teams for comment on the rumors at the time, but did not hear back by the time of publication.
A spokesperson for the couple did, however, roll up to slam all the gossip in a statement to The Sun. "There is no statement due, no divorce, and a lot of Chinese whispers and fake social media news," a rep for the Beckhams said at the time. "This is all very bizarre and an embarrassing waste of time. It's a crock of sh*t."
Such a relief, right? Only now, just four months later, David has copped to the fact that the power couple's marriage hasn't always been all that easy.
"To have been married for the amount of time that we have, it's always hard work," he said on the Australian talk show The Sunday Project. "It becomes a little more complicated."
It's fine. I'm fine. I mean, look, I get it. These two have been married for almost two decades now so it can't be smooth sailing all the time, right? But let's just hope that what Becks really meant to say here was: "it's complicated, but totally worth it."
Meanwhile, Victoria — who is celebrating the 10th anniversary of her fashion label — is currently on the November cover of Vogue Australia, and the hard-working mom of four also opened up about what it's like to be a perpetual tabloid target.
"What you do have to take into consideration is the older you get the older your children get, and they go online and see things that are hurtful, especially when it's personal stuff," she explained. "It's frustrating when things get twisted, because people can make you out to be a real arse. And I don't like it when it detracts from what I'm actually doing."
I feel that, sis.
She also spoke out about her relationship to Hello back in June, shortly after speculation that David Beckham was cheating first started making the rounds.
"I have the support of an incredible husband," Posh told the publication. "We really are equal with everything we do at home with the children. When I'm away he's the one doing the school run and doing the cooking."
Complicated or not, it sounds like these two have a pretty solid relationship to me.