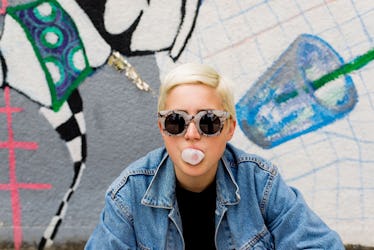 If You Aren't Into Hookup Culture, This Dating Advice For Casual Relationships Misses The Mark
Being given some solid dating advice can help you figure out some sticky situations in your love life. It can be validating to hear advice from someone who has listened to your concerns or seems to understand what you're experiencing. What's not fun is when you're given dating advice that doesn't apply to your situation at all. When people give dating advice for causal relationships to folks who aren't really interested in hookup culture, this can happen quite frequently. If you're just not interested in hooking up or dating casually, then it can be hard — frustrating, even — to hear advice that encourages you to do just that.
It can also be difficult to get advice about a crush who, for all you know, might have a preference for casual flings. I once dated a woman who was clearly more interested in hooking up here and there, but I had fallen hard for her. The end result was unsurprisingly messy ( I got over it by listening to a lot of Rihanna), but the remaining conversations I had about it with friends stung in a way I had trouble articulating. A lot of them expressed that she probably was just not looking for anything serious, and potentially only interested in something physical. Even if that were true, it hurt so much to hear!
If you're not into hookup culture, and get frustrated by a lot of common love advice, you've probably heard some of the following statements.