Dairy Queen's Pumpkin Pie Blizzard Is Back To Satisfy Your Fall Food Cravings
Win McNamee/Getty Images News/Getty Images
There are two kinds of people in the world. Those who like pumpkin pie and those who don't. I fall into the category of people who enjoy eating a slice of pumpkin pie at Thanksgiving dinner. If that's you, too, then you will be excited to know that Dairy Queen's Pumpkin Pie Blizzard is making it's returning again for another holiday season. Dairy Queen's Pumpkin Pie Blizzard is back to satisfy your fall food cravings.
The season for all things pumpkin is almost upon us. Dairy Queen is getting a head start on the Fall Equinox and releasing their fan-favorite Pumpkin Pie Blizzard a few weeks early. On Monday, Sept. 3, Dairy Queen's Pumpkin Pie Blizzard will return for the 27th year in a row, according to Delish. Like many other fall foods, DQ's Pumpkin Pie Blizzard is an annual tradition for ice cream lovers. The Pumpkin Pie Blizzard Treat will only be available for a limited time, so don't wait until turkey day to try one for yourself. The press release features the Pumpkin Pie Blizzard in a cup that says "Blizzard of the Month." This leads me to believe that Dairy Queen's Pumpkin Pie Blizzard will only be available during the month of September. Whatever the timeline is, I'm here for it.
Dairy Queen's Pumpkin Pie Blizzard is exactly what it sounds like. Think about your favorite pumpkin pie recipe. Maybe it's from your local bakery or maybe it's the one your mom makes. You know the one where you can immediately recall the taste just by talking about it? If you took a slice of your favorite freshly-baked pumpkin pie and blended it with ice cream, that's what the DQ Pumpkin Pie Blizzard is. It's a smooth and creamy combination of actual pumpkin pie chunks (yes, please) that is blended together by hand with Dairy Queen's one and only vanilla soft serve. It's finished off with a swirl of sweet whipped cream and a few sprinkles of nutmeg, according to a press release from Dairy Queen.
Just like every other DQ Blizzard, this one will be handed to you upside down. If you've never had the pleasure of ordering a Blizzard from Dairy Queen before, you're probably wondering why the hell would anyone turn their ice cream upside down? It's Dairy Queen's thing. A Blizzard is pretty dense. It's composed of very thick ice cream. Your ice cream scooper wants you to know it's the real deal, and that's why they turn it upside down before passing it off to you. It's pretty impressive, tbh. I don't know of anywhere else where you can get ice cream served like this.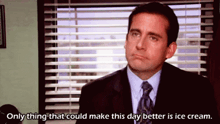 The once-a-year Pumpkin Pie Blizzard is available at participating Dairy Queen locations around the country. Remember, like all things inspired by the flavors of autumn and pumpkin, the Pumpkin Pie Blizzard is only available for a limited time. It's still hot out there, so this sweet treat is best enjoyed while the temps are high. Stop by a DQ starting on Monday, Sept. 3 and treat yourself to a taste of fall. Otherwise, you'll be stuck waiting until next year.