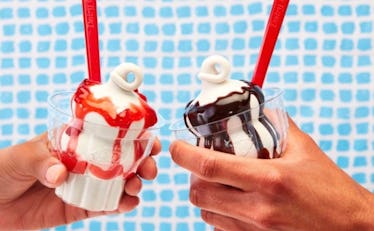 It's So Easy To Get A Free Dairy Queen Sundae To Celebrate National Dessert Day Today
If you haven't already heard the very important news, then I'll let you in on the fact that Sunday, Oct. 14 is National Dessert Day? Dreams really do come true, you guys. To make this day even better, there is actually a really easy way to treat yourself to some free ice cream in honor of the sweet occasion. How? Well, all you have to do is take advantage of Dairy Queen's Oct. 14 BOGO sundae deal.
You may actually be familiar with this deal, because it has been going on in the Dairy Queen mobile app since Oct. 9. And the DQ app is exactly where you'll want to head in order to get in on this glorious BOGO deal. If you haven't already downloaded the Dairy Queen app, that is the first thing you need to do, before free ice cream is all yours. Thankfully, it's super easy. Just head to the App Store or Google Play, download the DQ app, and then sign up with your email.
Once that's taken care of, you can navigate to the "Points" icon (it has a little barcode picture above it) at the bottom the DQ app, tap on it, and then click on "View My Deals" on the bottom right of the app. Once you're in there, tap on "Buy One Get One Free Small Sundaes," and voilá! A free sundae is (almost) all yours.
Per the description on the app, the deal ends Sunday, Oct. 14, so hurry in for your treat ASAP. Remember you're doing this in honor of National Dessert Day, so a post-dinner treat really is a must.
When you purchase any small DQ Sundae at regular price, you'll get another small DQ Sundae (of equal or lesser value) for free. It's a pretty straightforward BOGO deal, so there really is no excuse to not take your best dessert buddy — and your phone loaded with the DQ app to show at the counter — to your local Dairy Queen location on Sunday, Oct. 14. The coupon is good for "one offer person per visit" at participating U.S. locations. One exception is the Lone Star state, but ice cream fans in Texas can get a deal using the DQ Texas app, per the details in the offer.
Not sure which flavor you'd like to enjoy on this glorious National Dessert Day? DQ has plenty of options, so you're sure to find one that will make your taste buds do a happy dance. The available flavors on the DQ menu are:
Hot Fudge Sundae
Strawberry Sundae
Chocolate Sundae
Caramel Sundae
Peanut Butter Sundae
Pineapple Sundae
I know this is really a difficult decision. If you truly can't decide which one you want, you can always make it a solo trip to DQ and use the BOGO for a chance at trying two delicious flavors for the price of one. I have my eye on the classic hot fudge flavor.
Remember, this deal is only good through the end of the day on Oct. 14, so pick your favorite flavor (or two) and get to a Dairy Queen location, like... now.