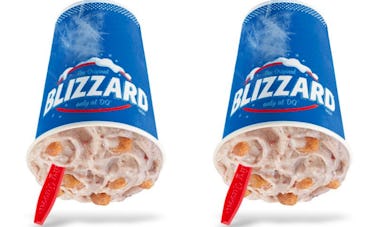 Dairy Queen's New Snickerdoodle Cookie Dough Blizzard Is A Cinnamon-Lover's Dream
For as long as I can remember, I've always had a weakness for cookie dough ice cream. Seriously, no matter how hard I try, I can't help myself around it. And even though the chunky frozen treat is usually made with chocolate chip cookie dough, Dairy Queen is totally going against the grain by debuting a new groundbreaking treat. Now available for a limited time on its first-ever seasonal Fall Blizzard Treat Menu is Dairy Queen's new Snickerdoodle Cookie Dough Blizzard. Trust me when I say it tastes like one of your favorite autumn snacks, which you definitely won't want to miss out on.
In case you didn't already know, Saturday, Sept. 22 was an incredibly special day for fall enthusiasts (like myself, of course). In honor of the autumn equinox, Dairy Queen debuted a new, festive treat, known as the Snickerdoodle Cookie Dough Blizzard. According to the press release, it blends creamy vanilla soft serve with super-rich Snickerdoodle cookie dough chunks along with sweet cinnamon sugar. Based on the tantalizing description, I'd imagine it tastes just like a fresh batch of grandma's cookies baked right into a paper Blizzard cup. Needless to say, I could really go for one of these, like, right now.
The Snickerdoodle Cookie Dough Blizzard is part of DQ's new seasonal menu, called the Fall Blizzard menu. In addition to the Snickerdoodle Cookie Dough Blizzard, according to a press release, the fall menu includes the Pumpkin Pie Blizzard, which is made with actual pumpkin pie chunks, as well as the Oreo Hot Cocoa Blizzard, a holiday favorite that originally debuted in 2017. It blends vanilla soft serve, Oreos, and rich cocoa fudge to make the seasonal treat. This highly-festive selection only be around for a limited time at participating DQ and DQ Grill and Chill restaurants throughout the U.S., so get your ice cream-lovin' butt over there while it's still in-season.
Maria Hokanson, the Executive Vice President of Marketing for American Dairy Queen, said in a press release that the new Blizzard flavors are absolutely perfect for fall.
In the press release, Hokanson said:
These Blizzard Treat flavors are the perfect transition into the fall season. Innovation in our Blizzard Treats has always been a point of differentiation for us. From putting a unique twist on a treat that blends hot and cold in our OREO Hot Cocoa Blizzard Treat to creating the perfect blend of cinnamon sugar with a festive seasonal cookie in our new Snickerdoodle Cookie Dough Treat, we have incredible flavor profiles that will delight our fans through fall and beyond.
According to the press release, the chain is also bringing back its Reese's Outrageous Blizzard as well as the Dipped Strawberry Blizzard. The Reese's flavor combines vanilla soft serve with Reese's Peanut Butter Cups, Reese's Pieces, creamy peanut butter, and sweet caramel, while the strawberry flavor combines Ghirardelli chocolate chunks, strawberry topping, and vanilla soft serve. DQ is clearly stepping up its Blizzard game. Honestly, I'm not mad about it.
Blizzards are one of DQ's greatest gifts, and the Snickerdoodle Cookie Dough Blizzard is no exception. With soft cookie dough chunks and cinnamon sugar-laced vanilla soft serve, it's a real treat along with all the other fall flavors. DQ, keep up the good work. You're nailing this whole "autumn" thing.